Disclosure: This post may include affiliate links through the Amazon affiliate program or other affiliate partnerships. If you click on a link and buy something, I may receive a commission, at no additional cost to you. You can read more boring disclosure details in my disclosure and privacy policy.
Jump to Recipe
Unlike most recipes, which I have developed and curated to perfection over the course of several years, such as my Spicy Shrimp Tacos, these pancakes were discovered entirely by accident.
One summer during college, I was living in a surprisingly spacious (as in, 4 bed,4 bath) NYU dorm room in Chinatown during an internship.
After church, a few people came over for breakfast, as we were all trying to save money by avoiding an expensive NYC brunch.
While making pancakes, my now-husband asked if I could put some sort of sweet treat inside the pancakes. I didn't have any chocolate chips, but I found some brown sugar in the pantry. In a spur of the moment decision, I decided to sprinkle some brown sugar on the pancakes before I flipped them over.
What happened next was a game-changer: Half of the sugar melted into the pancake, while the other half caramelized on the pan in a delicious sweetness.
These Buttermilk Brown Sugar Pancakes are fluffy on the inside, have a crispy exterior that tastes like candy from the brown sugar, and are the perfect amount of sweetness with just a touch of syrup.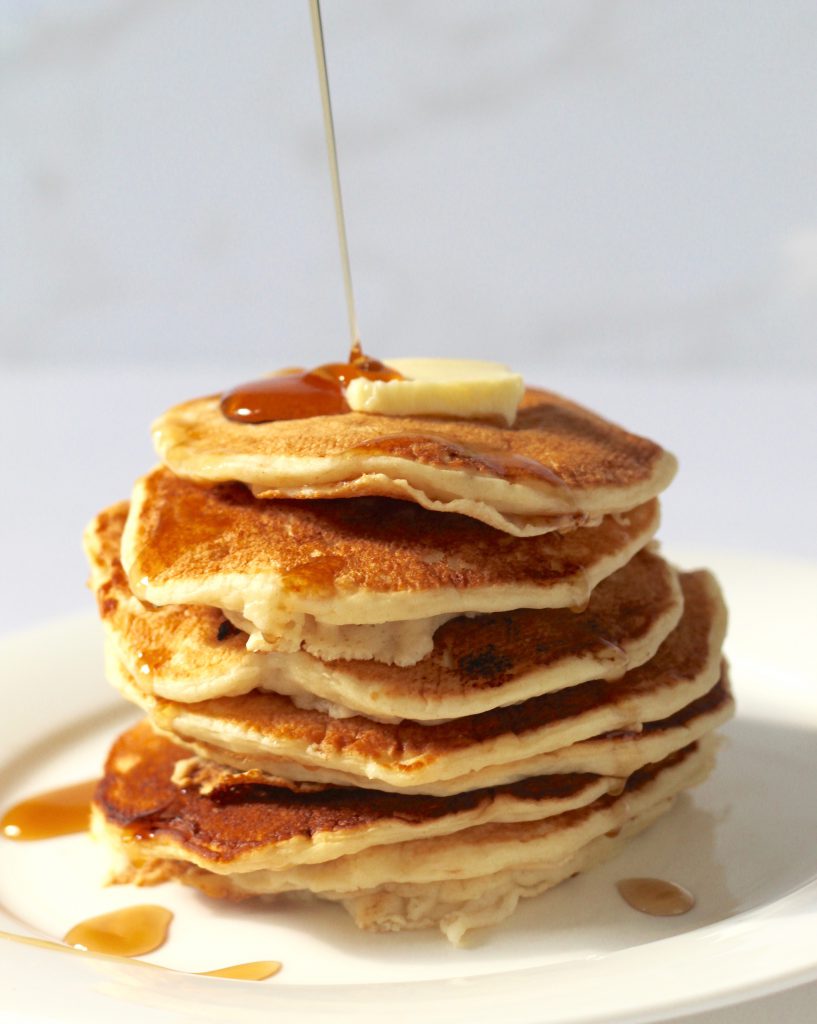 A Few Recipe Notes…
To make these Buttermilk Brown Sugar Pancakes, the base recipe is the New York Times Buttermilk Pancake Recipe. I have tried tons of other pancake recipes, but these are honestly the best. Why mess with a good thing? (I'm not the only one who thinks these pancakes are the best – the recipe has over 2000 5-star reviews.)
If you are tempted to use a different pancake recipe that doesn't have buttermilk, please don't! I make a dedicated trip to a different grocery store just to get buttermilk for this recipe. The buttermilk gives the pancakes a creamy quality, and the baking powder reacts to the acidity of the buttermilk, which makes them FLUFFY! Take notes from the old Southern Grandmas everywhere and just use the dang buttermilk!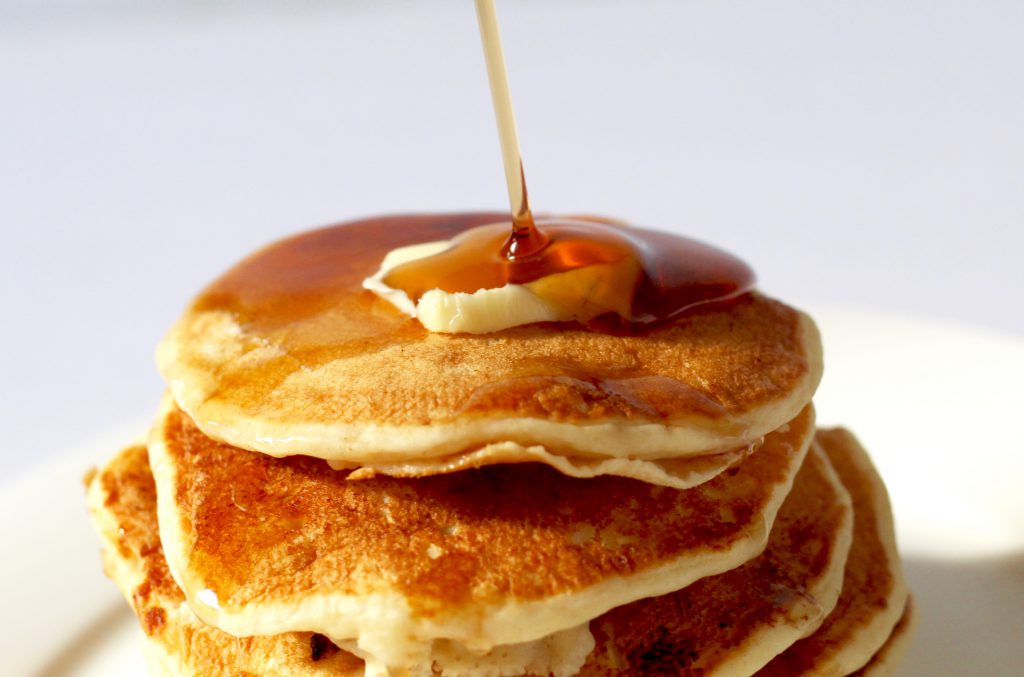 Love your lumps! Do not over stir your batter, as this will lead to a tough, chewy pancake. Pancake batter is best with some lumps left throughout. Don't worry, they disappear during cooking.
Make sure your baking powder isn't old/expired. I made this recipe at my mom's house once, and for reasons I couldn't explain, it was a total failure. It wasn't until later that I realized the pancakes fell flat because her baking powder was 4 years old (*rolls eyes*).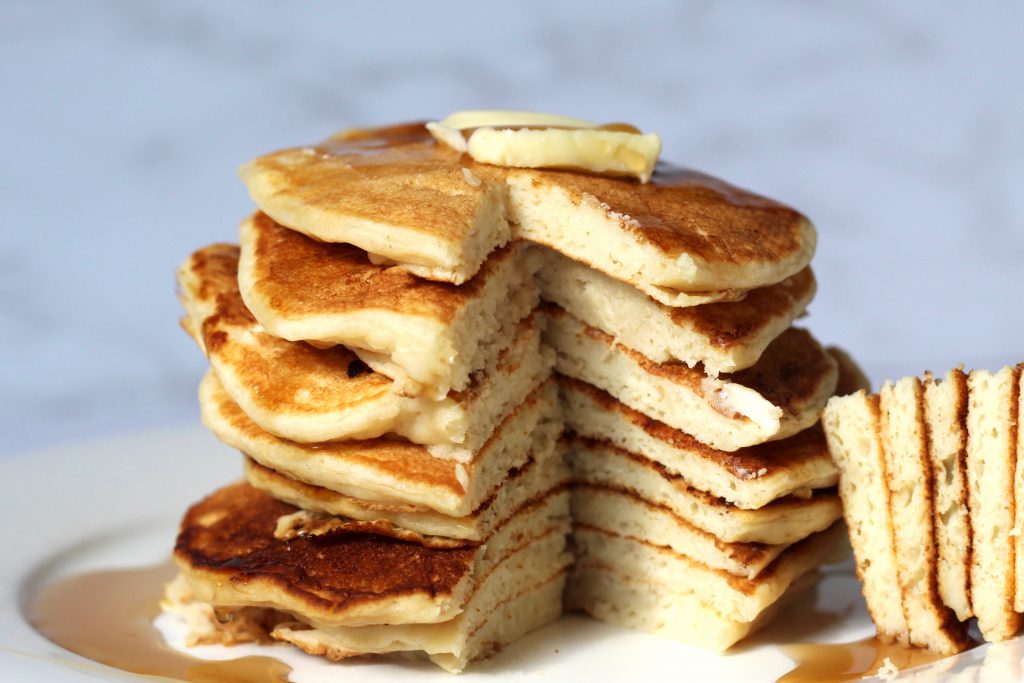 To make evenly cooked pancakes for a large crowd at once, I highly recommend investing in a good pancake griddle. My husband got me this one for Christmas last year, and I'm in love. You can cook pretty much anything on a griddle (bacon, eggs, quesadillas, fajitas, grilled cheese…) so don't think that it's too big of an appliance for just pancakes.
When adding the brown sugar, wait until JUST before flipping (re: Your pancakes should be cooked around the edges with lots of bubbles on the surface). If you add the sugar too early, it will absorb into the pancake rather than caramelizing into the delicious brown-sugar candy crust.
Here's your handy dandy printable! Be sure to subscribe to the newsletter to never miss a recipe 🙂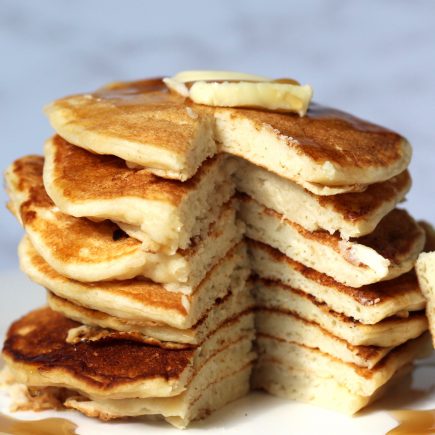 Buttermilk Brown Sugar Pancakes
These pancakes are fluffy and have a yummy brown sugar candy-like crust! Find other tasty recipes at www.thishomemadeheaven.com
Ingredients
2

Cups

All-purpose flour

3

tbsp

sugar

1 1/2

tsp

baking powder

1 1/2

tsp

baking soda

1 1/4

tsp

kosher salt

2 1/2

cups

buttermilk

2

eggs

3

tbsp

unsalted butter

1/2

cup

brown sugar
Instructions
Mix all ingredients except for the brown sugar. Leave some lumps in the batter.

Let the batter rest for about 5 minutes until slightly risen and bubbly.

After the bottoms and edges of the pancakes have cooked and bubbles are rising to the top, sprinkle 1 tsp of brown sugar on each pancake just before flipping.

Flip and cook for 1-2 minutes more until cooked through.

Serve with butter and light maple syrup.