Disclosure: This post may include affiliate links through the Amazon affiliate program or other affiliate partnerships. If you click on a link and buy something, I may receive a commission, at no additional cost to you. You can read more boring disclosure details in my disclosure and privacy policy.
Jump to Recipe
This creamy balsamic asparagus pasta is perfect for a quick weeknight dinner, or to impress your friends at a dinner party!
My freshman year of college, my best friend surprised me for my birthday with several girls from our bible study at a cute little Italian cafe in town, Teresa's.
Perusing the menu, the "Balsamico" pasta dish caught my eye. The dish boasted a balsamic cream sauce, which was intriguing because I had never heard of any pasta dish that wasn't made with red or white sauce.
But, the dish also had asparagus in it. I hate asparagus with a passion, so I was also instantly suspicious. I asked the waiter if I could order it without asparagus, but supposedly that was impossible.
I decided to take a risk and order it anyway, and told myself that I would simply pick around all of the pieces of asparagus if I had to. This pasta blew my mind.
I had never had pasta so perfectly creamy, with the most perfect balance of acidity and sweetness. And that pesky asparagus? It actually turned out to be delicious, with a type of tender nuttiness that I didn't know asparagus could have.
This pasta dish completely changed my views on asparagus, and on the types of sauces you can put on pasta in general. My job here today is to change your mind too – read on to learn how to make the tastiest dish yet!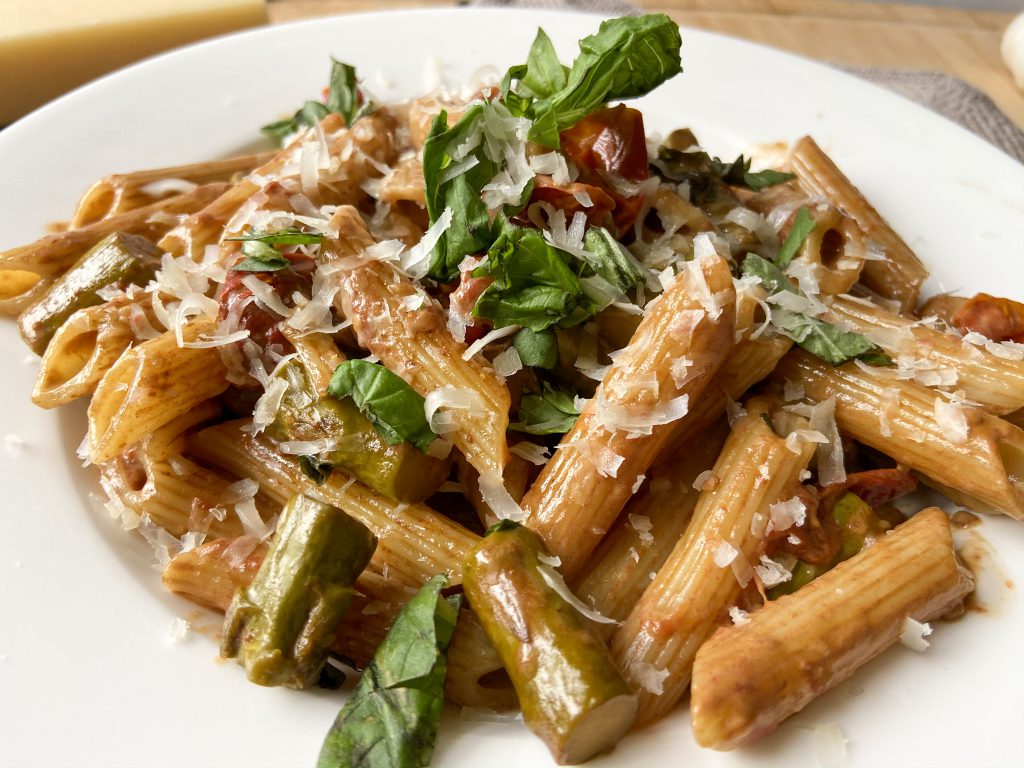 The Recipe
Ever since eating that delicious pasta at Teresa's I have been trying to recreate the recipe. Through a long journey of recipe testing and learning how to cook in general, this recipe has evolved over the years, but resulted in a final product of amazing creamy, balsamic asparagus pasta.
If you're scared of the asparagus, don't be! I've included instructions on how to achieve tender, nutty asparagus. This recipe is truly the only way my husband or I will eat asparagus. And I am all for recipes that sneak extra vegetables into our diet.
As a bonus for the plentiful veggies in this creamy balsamic asparagus pasta, you don't need to worry about preparing side dishes. Salad and bread are great, classic options if you want to serve it with something.
If you want to make this recipe vegetarian, simply omit the chicken – it's still just as delicious!
There are actually two different methods for this recipe – one that will take about 20 minutes, and one that will take about an hour. Both are delicious, but one has more depth of flavor for when you want to be really impressive 😉
The Quick Method
This is a great, tasty option if you need a meal that is ready within 20-30 minutes on a weeknight!
First, put your pasta water on to boil. Begin by sauteeing cubed, season chicken breast in olive oil. Be careful not to overcrowd the pan, or your chicken will steam rather than sear, resulting in less flavor.
While the chicken is cooking, chop up your garlic, tomatoes, and asparagus. The trick to tender asparagus is to take each spear and bend it in half until it snaps. Keep the end with the head, and discard the other half. The end with the head is the most tender; cut the asparagus into one-inch pieces.
When the chicken is nearly cooked through (to an internal temperature of at least 165 degrees, I recommend this meat thermometer!), add the garlic to the pan. Stir the garlic until fragrant, then add in the tomatoes and about 1/4 cup of balsamic vinegar.
Put a lid on your pan and simmer for about 5 minutes until the tomatoes have begun to break down. If needed, take your spatula and smash down the tomatoes a bit, helping form a sauce in the pan.
Finally, add your asparagus to the pan. The key here is not to overcook your asparagus – you want it to stay bright green!
Once you are satisfied with the cooked-ness of your asparagus, add in a cup and a half of heavy cream. If you want your sauce to be thinner, you can take some of the water your pasta is cooking in and add it to the sauce. Finally, toss your al-dente pasta around in the sauce.
Before serving your creamy balsamic asparagus pasta, top with freshly grated parmesan and chopped basil.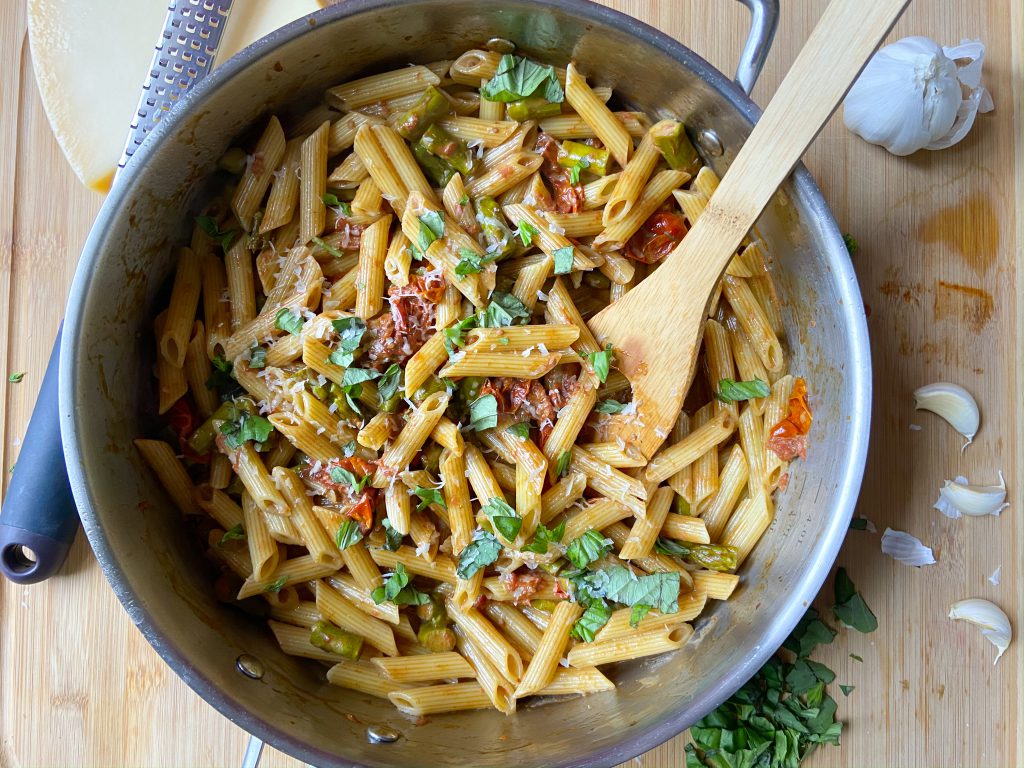 The Slower Method
The reason why this second method for this recipe is slower is because it uses roasted garlic. If you've never made your own roasted garlic, now is a great time to start! It is incredibly easy and adds the most delicious depth of flavor to any meal! Once you know how to roast garlic the possibilities are endless – think garlic bread, soups, mashed potatoes, or hummus!
First, preheat your oven to 350 degrees. Take one bulb of garlic and slice it in half crosswise, so that you're left with two intact halves of garlic cloves. (Crosswise means that your knife is parallel to your cutting board).
Place your two garlic bulb halves in a large oven-safe pan. Drizzle with olive oil and season with a pinch of salt and pepper.
To the same pan, add cubed chicken breast, halved tomatoes, and asparagus. (See above on how to make sure your asparagus is tender!) Drizzle everything with olive oil and balsamic vinegar. Bake the entire pan for about 40 minutes, or until the chicken is cooked through.
While the chicken and veggies are baking, cook the pasta, reserving about 1 cup of pasta water.
When the chicken is cooked through, remove the pan from the oven. Take a fork and mash the tomatoes so that they make their own sort of sauce. Carefully, take the garlic halves and squeeze the garlic so that the cloves fall out of their peels. Using the fork, mash up the garlic so that it forms a paste of roasted garlic deliciousness.
Finally, add 1 1/2 cups of heavy cream to the pan and stir everything together. At this point, if the sauce seems too thick, add some of the reserved pasta water until you reach the desired thickness. I would also suggest tasting the sauce at this point, and add more balsamic vinegar if needed.
Finally, toss the pasta in the pan until it is thoroughly coated with the sauce. Top with freshly shaved parmesan cheese and fresh basil!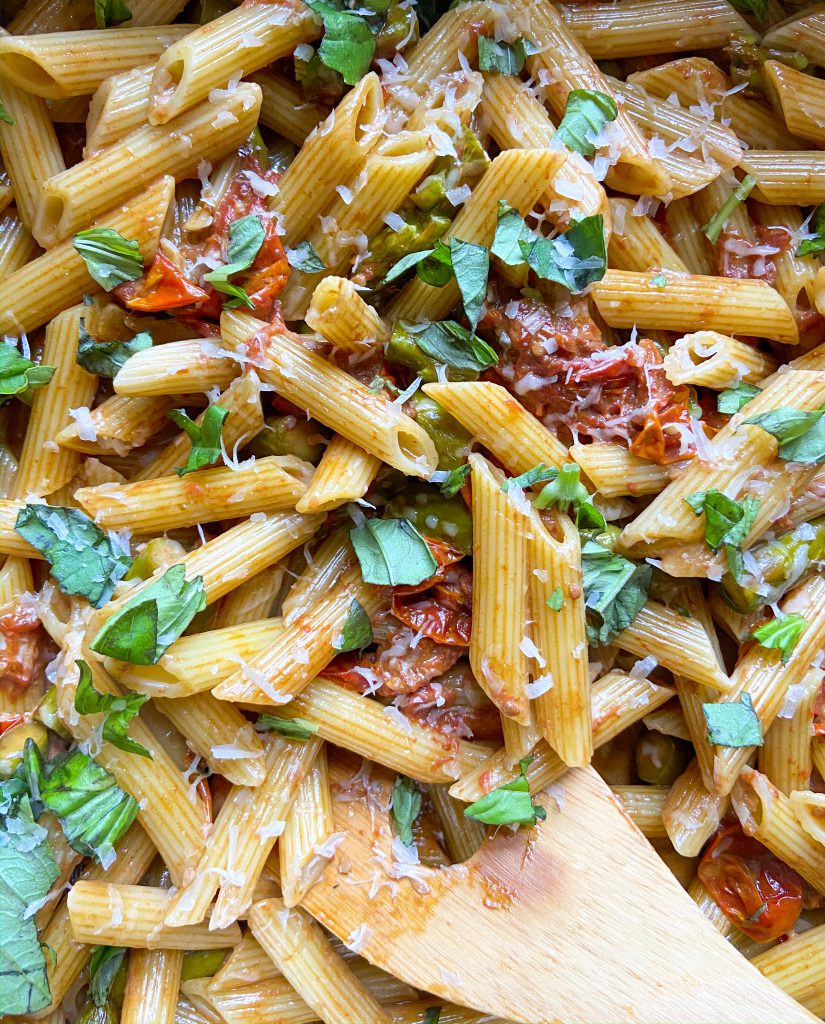 Printable for Creamy Balsamic Asparagus Pasta
Let me know if you make this recipe, and how it turns out! I'd also be curious to know which method you used.
If you need help with any modifications to the recipe, leave a comment below, and I'll be sure to answer 🙂
Other recipes you're sure to love:
Gourmet Grilled Cheese
Spicy Shrimp Tacos
Buttermilk Brown Sugar Pancakes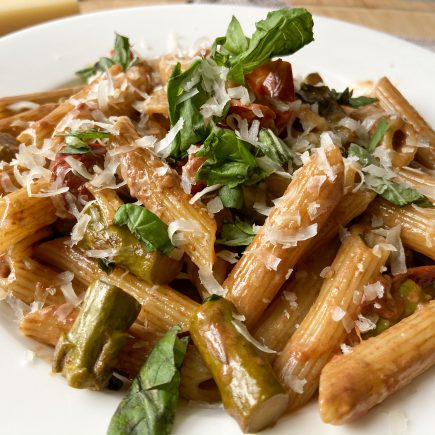 Creamy Balsamic Asparagus Pasta
Creamy pasta bursting with flavors of balsamic and roasted garlic.
Ingredients
1

tsp

olive oil

Salt and pepper to taste

1

bulb

garlic

1

pint

cherry tomatoes, halved

1

bunch

asparagus spears, chopped

2

small

chicken breasts, cubed

optional

1

pound

penne pasta

1.5

cup

heavy cream

1/4

cup

balsamic vinegar

1

cup

freshly grated parmesan

10

leaves

basil, chopped
Instructions
Cook pasta to al dente according to package instructions. Reserve some of the pasta water.

Slice garlic in half cross-wise and drizzle with olive oil. Place in a large oven-safe pan.

Add chicken, tomatoes, and asparagus to the pan. Season everything with salt and pepper to taste, and drizzle balsamic vinegar over everything.

Roast chicken and veggies for about 35-40 minutes until garlic is soft and chicken is cooked through.

Smash tomatoes and garlic with a fork. Mix in heavy cream, pasta water if needed, and more balsamic vinegar to taste.

Toss pasta in the sauce. Top with parmesan cheese and basil, then serve.
For fast method:
For a quick dish, brown chicken in a large skillet first. Mince 3-4 cloves of garlic and add to the pan; stir until fragrant.

Add tomatoes to the pan. Cover pan and simmer for about 10 minutes, until tomatoes have begun to break down. Add asparagus to the pan and stir until just softened.

Add balsamic vinegar, heavy cream, and pasta water if needed to the pan. Stir to combine. Let the sauce reduce for 1-2 minutes until thickened.

Toss pasta in the sauce and top with parmesan cheese and basil. Enjoy!