Disclosure: This post may include affiliate links through the Amazon affiliate program or other affiliate partnerships. If you click on a link and buy something, I may receive a commission, at no additional cost to you. You can read more boring disclosure details in my disclosure and privacy policy.
Jump to Recipe
Is anyone else obsessed with the show Jane the Virgin? When our daughter was born, my husband and I binge-watched the first three seasons on Netflix. We do not regret spending his paternity leave watching Jane in the least!
Does anyone remember what Jane's favorite food is? I'm guessing you'll figure it out based on the title of this post, but let's get to the point – it's grilled cheese!
For some reason, it is so important that Jane likes grilled cheese that the narrator mentions it in the first line of the entire show. After that, I feel like the grilled cheese takes a major backseat in the plot and it is only mentioned a handful of times (we'll give the writers a break, there's a lot going on in Jane's life…).
I, too, love grilled cheese. And I think this is a recipe that any grilled cheese lover, or any food lover for that matter, will devour. So, whether you're obsessed like Jane Villanueva, or just a girl craving some comfort food on a rainy day in NJ, enjoy!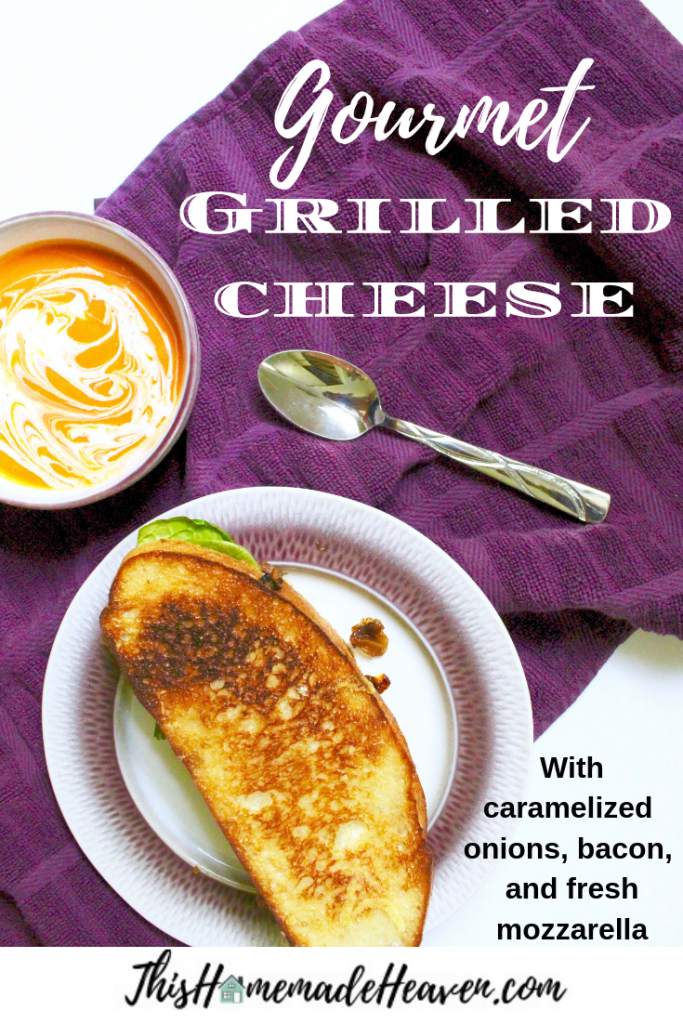 The Secret…
"Amy, what is the secret to your gloriously golden brown crust?"
I'm glad you asked!
But before I tell you, you have to promise not to click away and give up on this recipe. Because if you trust me, this trick could change your life.
It's mayonnaise.
That's right, mayonnaise. If you spread it generously on the outside of your sandwiches and cook them over medium heat, it will yield a golden, crispy, slightly greasy crust that is to die for.
For all you mayo-haters out there, don't worry – you can't taste the mayo at all! Cross my heart and hope to die. I've been using this trick for years, and no one has ever noticed a mayo taste. In fact, I've had friends use mayo on sweet dessert paninis because of the golden crust, and it hasn't caused a problem.
If you think about it, mayo is basically just eggs, oil, and vinegar, and I think this is why it works so well. The mayo is like an egg wash and a cooking oil that perfectly covers the surface of the bread.
If you're too chicken to try the mayo, go ahead and use butter. In my experience, it doesn't lead to the same crispy-ness or even cooking, but there is a good reason why people have used butter on grilled cheeses for… well, forever.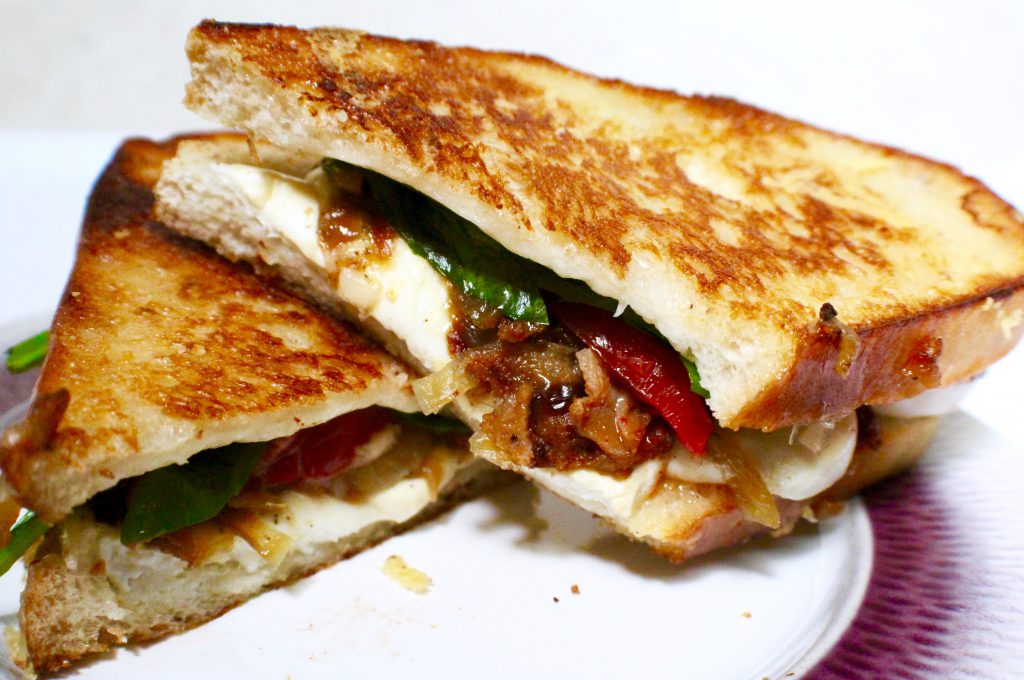 The Ingredients
Now that we've gotten over the Mayo Shocker and established that you should definitely use it, let's go over everything else.
The Cheese…
In this grilled cheese, I chose to use fresh mozzarella because it's objectively the most delicious cheese. But seriously, I went with something milder in flavor so that it wouldn't overwhelm the other ingredients.
The same goes for the swiss cheese. I'm normally not a big swiss person, but I've found that the flavor just melts away and compliments everything else in a grilled cheese.
When you go grocery shopping for the cheese, please please please do yourself a favor and buy it in a block rather than pre-shredded. Not only are blocks cheaper, but shredding the cheese yourself actually results in a better end product.
Ever notice how a pile of freshly grated cheese sticks to itself? That's exactly what the cheese will do inside your sandwich – it'll melt and stick to everything around it. The cheese melts better without all the extra junk put into pre-shredded cheese bags to help the cheese keep its shape and not stick to itself.
When cooking the grilled cheese, I recommend starting with a layer of fresh mozzarella. Then, sprinkle a little swiss in between each other topping. The cheese will act as the glue that holds it all together.
The Veggies…
Most of the veggies in this dish are self-explanatory. Tomatoes add some juiciness and acidity. Spinach is used for color and to get my husband to eat some form of a vegetable.
But the dark horse in this recipe? The caramelized onions.
The onions take a bit of time, but the patience has the best reward. The sweet caramelized onions in each bite offset everything else. Trust me on this one, just make the onions. This might mean it's not a quick weeknight meal, but it could be great for an at-home date night!
I realize I'm saying 'trust me' a lot in this recipe – clearly I'm committed to the deliciousness of my choices.
The Bacon…
Yes, the bacon gets its own category. The bacon deserves its own category.
If you were worried that this grilled cheese wasn't healthy, well, you were right. But just in case you thought the other ingredients wouldn't yield a fantastic gourmet grilled cheese, I threw in some bacon.
After you finish cooking the bacon, don't throw out the grease! That stuff is gold for cooking your onions and spinach in. Take a page out of the southern grandma cooks from throughout the ages, and save your bacon grease. You'll thank them later.
I recommend chopping up the bacon into smaller pieces before putting it on your sandwich for maximum bacon distribution.
Do you trust me yet? 😉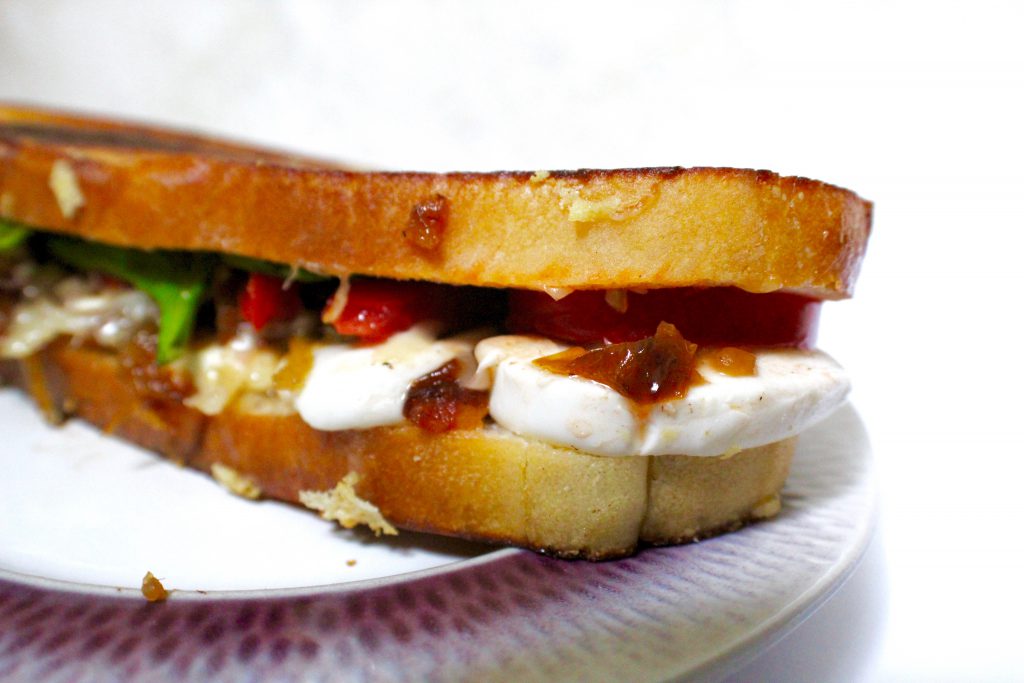 Modifications
If you aren't a fan of spinach, basil would be a delicious herb replacement.
Swiss cheese can be replaced with white cheddar or colby jack.
The tomato may be replaced with sundried tomatoes or red bell pepper, though it will give a slightly different flavor.
Though this sandwich can stand alone on its own as a meal, it's delicious with tomato soup. Though I'm not normally a tomato soup person, the tomato cream soup from Trader Joe's is delish. A salad would also do wonders to balance out the greasy (but amazing) cheese and bacon!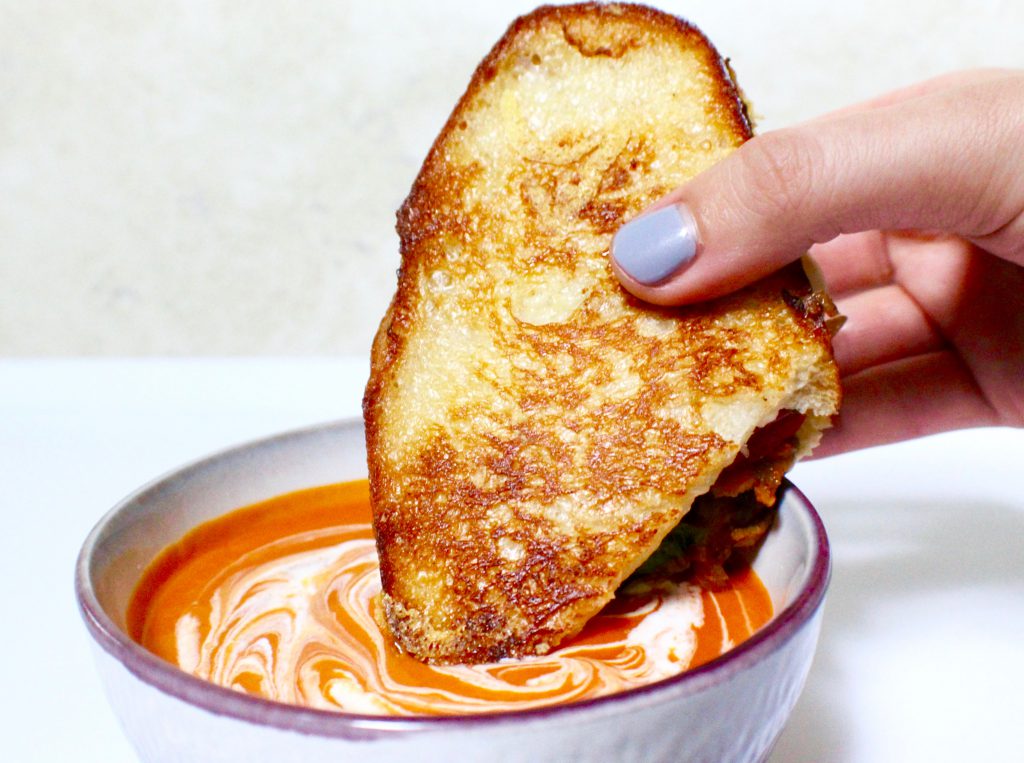 Subscribe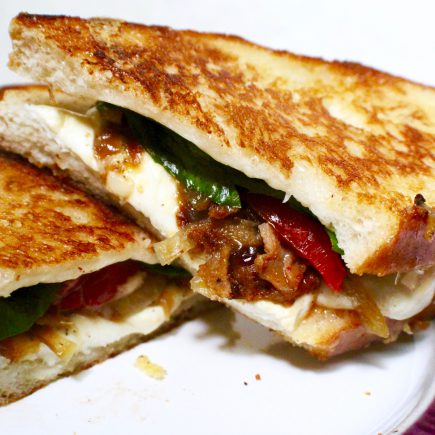 Gourmet Grilled Cheese
This is a decadent grilled cheese recipe, perfect for a date-night in, or a spruced-up weekday meal. Serve with tomato soup or salad.
Ingredients
4

slices

good quality bread, like sourdough

4

slices

bacon

fresh mozzarella

1

cup

freshly shredded swiss cheese

1

tomato, sliced thinly

1

handful

spinach leaves

1

onion

1

pinch

salt

4

tbsp

mayo
Instructions
Cook bacon in a pan on the stovetop over medium heat until crispy. Drain the bacon on paper towels, then chop and set aside.

While the bacon is cooking, chop your onion into thin slices. Without removing the bacon grease from the pan, turn the heat to medium-low and add the onions. Season with a pinch of salt and cook slowly until the onions are golden-brown.

Remove onions from pan and set aside. Add the spinach and cook until just wilted. Remove bacon grease.

Spread mayonnaise over one side of each slice of bread, covering completely.

With the pan on medium heat, add one slice of bread mayo-side down. Layer the slice of bread with fresh mozzarella. Next, add the caramelized onions and bacon. Top with swiss cheese. Layer on the tomato and spinach, then swiss cheese again. Top with the other slice of bread, with the mayo on the outside of the bread.

When the bread is golden brown, carefully flip the sandwich so that the mayo side is on the pan. Cook until the cheese is melted and the bread is golden brown. Enjoy!
Notes
For more recipes, visit ThisHomemadeHeaven.com