Disclosure: This post may include affiliate links through the Amazon affiliate program or other affiliate partnerships. If you click on a link and buy something, I may receive a commission, at no additional cost to you. You can read more boring disclosure details in my disclosure and privacy policy.
This post is part of a collaboration with Marvel Refrigeration. The drawers were gifted to me free of charge in exchange for this blog post as well as social media content. All opinions are my own.
I just completed a major kitchen renovation in my 1960s home that included tearing down the main load-bearing wall and extending the kitchen into what was formerly the dining room. The kitchen was designed entirely by me, from the floor plan down to every small detail.
However, planning a renovation without the help of a professional designer can be stressful. I simply wanted to get every detail right, but it can be hard to have the proper foresight into what it will be like to live in the space several months in advance!
One aspect that concerned me was refrigeration space; I wanted to have enough space for at least a week's worth of food for my family of 5. But, we aren't planning on moving now that we've spent our life's savings on this kitchen, so I also need enough fridge space when my kids are teenagers are eating me out of house and home.
Our kitchen lacked the square footage to do the giant commercial sized refrigerators I often see online. We have a fridge in the garage for our Costco hauls, but I wanted something in the kitchen itself. Enter: Marvel Refrigerator Drawers.
Fridge Features
These drawers are a perfect balance between convenience and simplicity. They come as a stacked unit of two drawers in stainless steal or panel-ready. I opted for the panel-ready appliances so they would blend in seamlessly with my cabinetry.
The top drawer comes with an organizer to help keep items separated. The top drawer is ideal for beverages you want to keep cold. Personally, I like to use it as an iced-coffee station with my cold brew, sweetener, and halfnhalf.
The unit is very energy-efficient, saving you money on your electrical bill and providing refrigerator space without a high energy cost.
Marvel Refrigerator Drawers: The perfect solution for our home
These drawers are a great solution for families that like to have a lot of drinks on hand (my husband loves to have kombucha in stock) without taking up space in the main fridge.
I love how accessible they are for my young children. I keep the bottom drawer stocked with their favorite healthy snacks such as cheese sticks, apples, and yogurts, and my kids know that they are allowed to help themselves whenever they want. if you have school-aged children, this is also a way to increase your child's independence when packing their own lunch.
These drawers are also a great option when considering your kitchen layout as a whole. When we planned our layout, the only space that made sense for the full-size fridge was the far wall, on the opposite side of the kitchen from our breakfast table. We didn't want to walk 25 ft to the fridge every time we forgot the ketchup or wanted a refill on the orange juice. The fridge drawers were the perfect solution!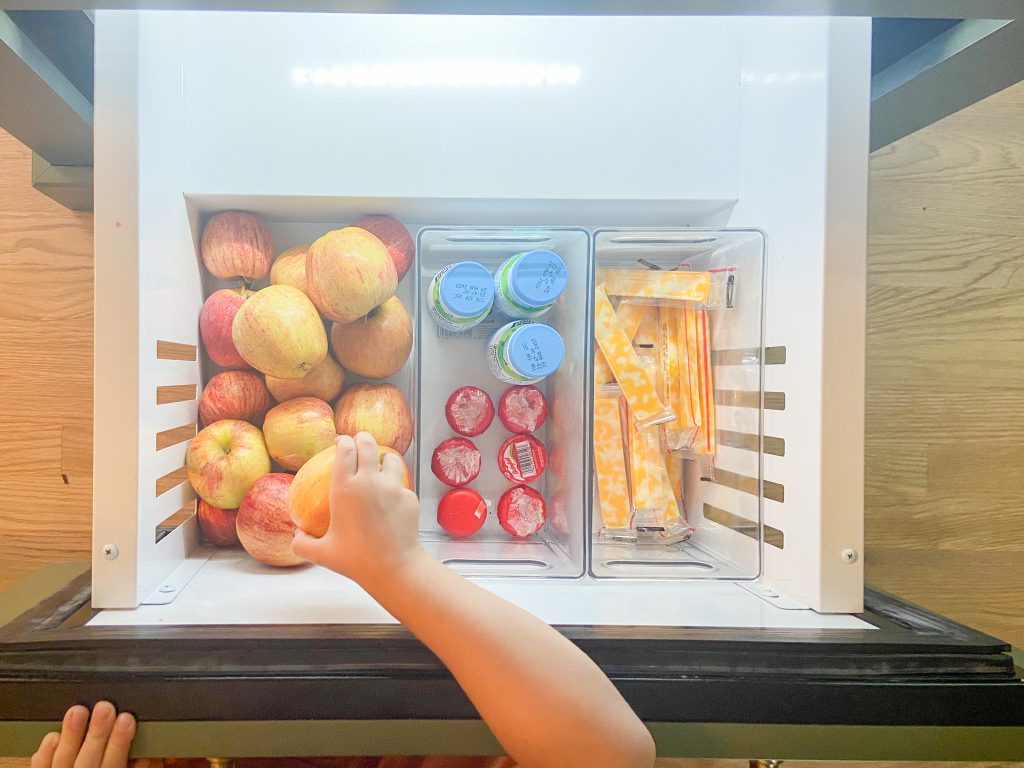 Considerations
If you plan on installing a fridge drawer in your home, remember that it will need upkeep and maintenance like any appliance. However, with specialty appliances like this, standard technicians or handymen may not be able to help. It's best to go straight to Marvel!
Also, one thing to anticipate is that these refrigerator drawers will make noise; I neglected to realize this and was simply surprised that I could hear them cycling on and off from my couch in my open-concept home.
Finally, when planning your kitchen layout and the integration of these fridge drawers into the cabinetry, remember to leave adequate room for ventilation on all sides of the cabinet as specified in the manual.
Where To Buy
If any of the features of the Marvel Refrigerator Drawers sound like they would benefit your family, consider adding them to your home!
The drawers I have can be found here; Be sure to use the Marvel website to find an authorized dealer for this appliance near you. You can select between either the panel-ready or stainless steel finish.
Lastly, these drawers are not limited to use in the kitchen! They could be an excellent feature in a home office, shared workspace, or outdoor kitchen (check out their outdoor model!).
I believe that upgrading your kitchen appliances is a step toward creating a culinary heaven that's uniquely yours. Happy renovating!