Disclosure: This post may include affiliate links through the Amazon affiliate program or other affiliate partnerships. If you click on a link and buy something, I may receive a commission, at no additional cost to you. You can read more boring disclosure details in my disclosure and privacy policy.
Jump to Recipe
After a long hiatus from blogging due to moving, a trip to CA for a friend's wedding, and a beach stay with my family in FL, I'm back!
When my family goes on vacation, we usually stay in a condo so that we can cook while we're there rather than eating out every night.
Thank goodness my mom got tricked into buying a timeshare on her honeymoon in Mexico 30 years ago! While it's a huge headache for her, it's meant that we have had the privilege of going on a family vacation each year.
Last year, my family raved about these Spicy Shrimp Tacos I made for them (except my mother, who is allergic to shrimp, bless her heart). They are spicy, crunchy, juicy, creamy, limey, and taste like something you would get from a mexican restaurant.
This recipe is adapted from Laura's Best Fish Tacos at Miss Foodie Two Shoes. Be sure to check out her blog!
Now, on with the recipe!
The Preparation
This recipe comes together super quickly – which is one of the reasons why it is one of my favorites, especially on a weeknight!
I recommend preparing the slaw and sauce for the tacos first, because once the shrimp hits the pan, you only have three minutes before dinner is served. And no one wants cold shrimp on a taco.
The slaw is super simple. I like to buy the bag of pre-cut coleslaw, then all you have to do is chop up the cilantro and limes and throw it in. It adds a refreshing, crunchy texture to the taco.
The sauce is easiest to make with an immersion blender. Because it includes whole garlic cloves and chipotle peppers (depending on your spice tolerance), you'll need something with some mixing power behind it as opposed to just shaking it up in a jar.
As far as the tortillas go, I think corn is the way to go, but my husband likes them with flour. Just pick the one your whole family will love!
The Sauce
This sauce is BY FAR what makes the taco. Do not, under any circumstances, let your guests choose not to eat the sauce. It brings the whole dish together.
Honestly, the sauce is where most of the flavor is, because that's where you find the tastiest ingredients: garlic, chipotle peppers in adobo, cilantro, and limes.
The creaminess of the mayo in the sauce also helps bind the shrimp to the slaw and the slaw to the tortilla. Without the sauce, you'd just be eating a shrimp salad on a tortilla.
The Tortilla
Do you want to know how to take your tortillas to the next level? Hint: it's not the microwave.
Tortillas are best when heated over direct flame. I do this by turning my gas stove on high and firing up the tortilla right over the flame.
This process is QUICK – pay attention or they'll burn! After about 10/15 seconds, use tongs to flip the tortillas over.
If you don't have a gas stove, a pan set to high heat works well also.
If you cook your tortillas this way, you're guaranteed to get some deliciously charred edges that add a smokiness to the taco. As a bonus, corn tortillas don't split in half while eating if they've been heated up.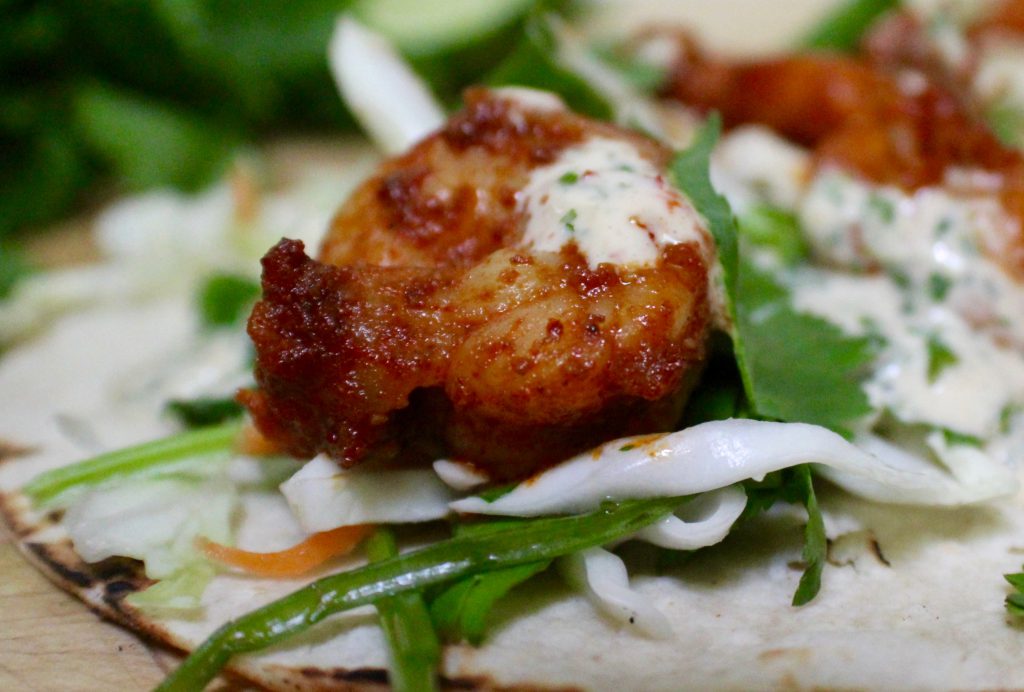 The Shrimp
When you pick out your shrimp at the grocery store for these tacos, if you're shopping in the frozen section, make sure you buy raw shrimp. Cooked shrimp are almost always overcooked when you buy them, and if they aren't then they will be by the time you're done.
Before starting the shrimp, be sure to remove all of the peels and tails. Tail-on shrimp has its place in this world, but it is not inside of a taco.
If you bought frozen shrimp, I would strongly advise you to dry them off and season before you put them in the pan. I've been lazy in the past and just dumped the bag in, but this resulted in a gross, soupy shrimp-water in the pan.
By drying the shrimp off ahead of time, tossing in seasoning, then cooking, you'll ensure the shrimp get a nice sear and that the seasoning will actually stick to your shrimp in the skillet.
Modifications
For those with shrimp allergies (or who are just anti-shrimp in general), tilapia is a great substitute! I have made this recipe with frozen tilapia filets and it turned out great.
If you want a healthier alternative to the mayo in the sauce, you could certainly switch out greek yogurt. I'd probably add a teaspoon or so of vinegar to provide the extra tang that mayo has.
If you prefer a less spicy sauce, simply add less adobo sauce and omit the whole chipotle pepper. Start off with a little adobo and gradually add more, tasting as you go.
For Whole30, these are great made with some homemade mayo and a lettuce wrap instead of a tortilla.
I recommend serving with plantains or black beans and rice on the side – give your family or guests the true restaurant experience!
Enjoy!
Leave me a comment letting me know how these turned out, and be sure to share on Instagram (Tag me!) or Pinterest to spread the food love!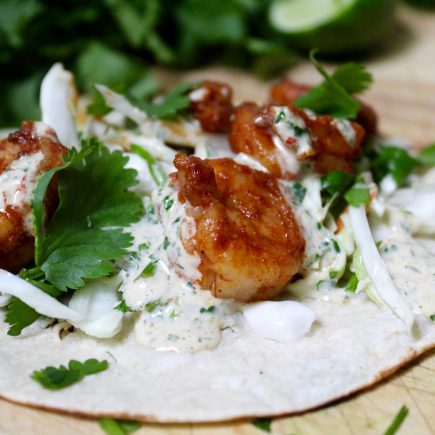 Spicy Shrimp Tacos
Try this delicious recipe with seasoned shrimp, a chiptole mayo, and cilantro lime slaw.
Ingredients
1

lb

Shrimp

8

Tortillas

Corn or Flour

1/2

cup

Mayo

2

cloves

Garlic

3

Limes

1

bunch

cilantro

1

can

chipotle peppers in adobo

salt and pepper to taste

1

tbsp

cumin

1

tbsp

chili powder

1/2

tbsp

garlic powder

1

14 Ounce

Bag of Cole Slaw

1

tbsp

olive oil

1

avocado

optional
Instructions
Prepare the cole slaw by mixing the bag of slaw, 1/2 the bunch of cilantro (leaves and stems), juice of 2 limes, and salt in a small bowl. Set aside.

With an immersion blender, blend together the mayo, juice of one lime, garlic cloves, 1/2 the bunch of cilantro (leaves and stems), 1 tbsp of adobo sauce, and 1 chipotle pepper. Leave out the pepper for less spicy tacos.

Remove the peels and tails from the shrimp. Pat dry with a paper towel. Toss in seasonings to coat.

Preheat a saute pan on medium-high heat with 1 tbsp of olive oil. Cook the shrimp until pink and no longer translucent, about 4 minutes.

Serve with slaw, shrimp, and sauce all piled on one tortilla. Can also be topped with avocado.