Disclosure: This post may include affiliate links through the Amazon affiliate program or other affiliate partnerships. If you click on a link and buy something, I may receive a commission, at no additional cost to you. You can read more boring disclosure details in my disclosure and privacy policy.
Jump to Recipe
The time has come. The post you have all been waiting for. My signature Copycat Chipotle Chicken Burrito Bowls.
All jokes aside, this truly is one of my most requested recipes. My husband usually requests it for his birthday, and his family asks that I make it when we go on a family weekend to the Poconos.
It's a go-to meal for me when I need to serve something that feeds a lot of people, or when I just feel like impressing someone with its tastiness!
Whenever I get a text from someone asking for my recipe, I usually respond with, "Idk, it's just lots of cilantro and lime juice!"
While this is true, writing down "just cilantro and lime juice" wouldn't make me a very good food blogger, now would it?
So, here is my Copycat Chipotle Chicken Burrito Bowl Recipe, with as much specificity as possible 😉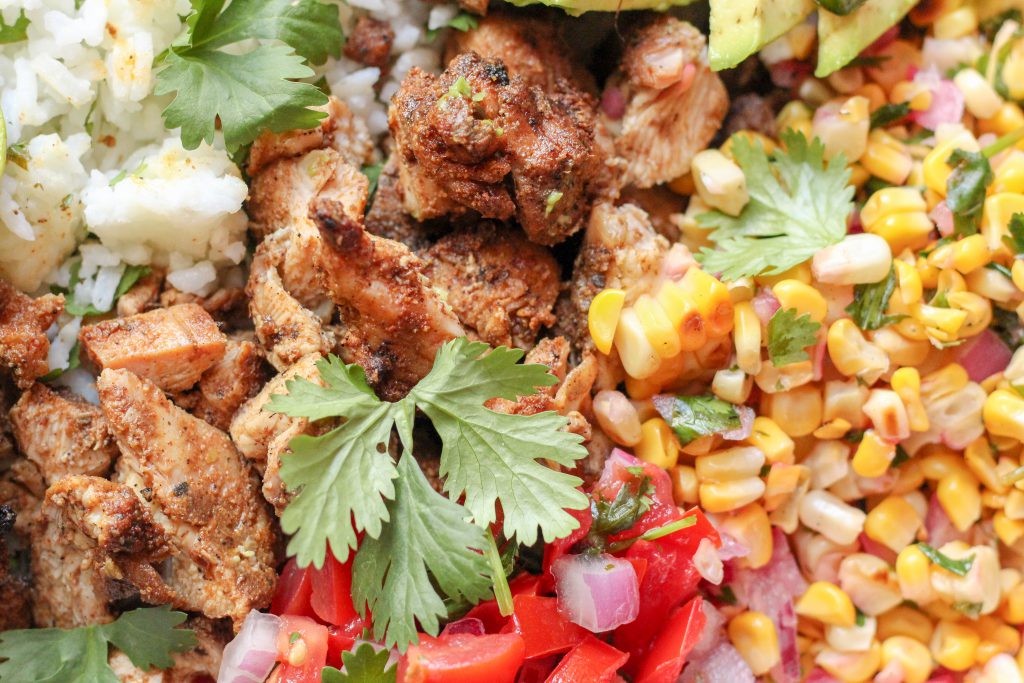 You might also like:
Spicy Shrimp Tacos
Gourmet Grilled Cheese
Preparing the Chipotle Chicken
I think the secret to cooking meat that tastes just as good as Chipotle, or dare I say better than Chipotle, is actually pretty simple: Spices and grilling.
First of all, please do yourself a favor and buy chicken thighs, not chicken breast for this recipe. The flavor and juiciness cannot be beat, especially for chicken that's going on the grill.
I don't have a complicated marinating process for this recipe. I simply coat the chicken in a heavy dose of olive oil, then toss it with the spices about an hour before it goes on the grill. I've also done it just before grilling and it was still tasty.
I'm not sure if this qualifies as a dry rub, but I would say that you don't want a very wet marinade if you want the deliciously charred edges like Chipotle.
The next important step in making the meat is to grill your chicken thighs properly. I've done this recipe on a grill pan indoors, a charcoal grill, and a gas grill, and all had equally tasty results. The important thing to remember is to chill out on the flipping. Only flip once.
Flipping once ensures that you have nice, charred bits all over the chicken. If you flip it constantly, you're basically turning it into rotisserie chicken. It won't have the same Chipotle firey taste or texture.
Once you see the chicken begin to brown around the edges, that is a good time to flip. Don't worry, it's actually really difficult to burn chicken to an inedible status on the grill as long as you don't walk away for 30 minutes.
To make sure you don't overcook the chicken, I recommend a meat thermometer. I have this one and LOVE it – funny enough, my husband bought it for me for Christmas three years ago because it claims to be the same meat thermometer that Chipotle uses!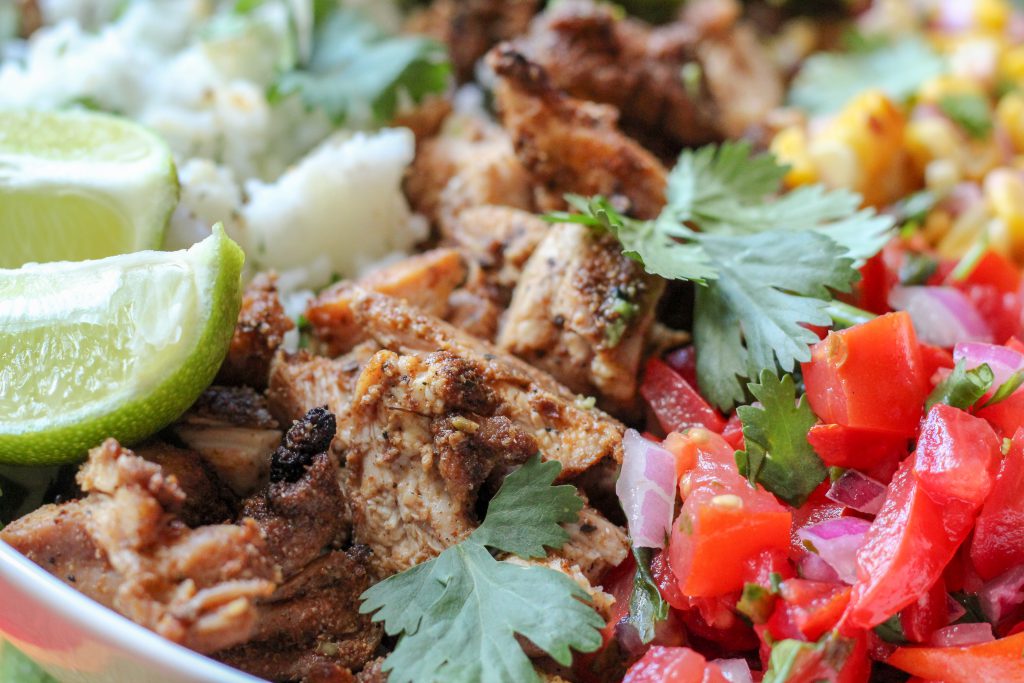 Cooking the Rice for your Chipotle Chicken Burrito Bowls
The rice for your Copycat Chipotle Chicken Burrito bowls is actually one of the simplest parts to make. I prefer to make mine on the stovetop while I'm prepping other ingredients.
Once I was at a potluck and kept blabbing on and on about how delicious the rice was that someone brought. This friend was from Colombia, so he just looked at me like I was crazy, because I'm sure good rice is not as hard to come by in Columbia as it is here in America. "It's just butter and garlic," he explained.
Mind. Blown. I had never even thought to cook my rice with butter… in my family, butter was always something added to brown rice after it was served to you. But it is a necessary component that will make all of your friends' eyes light up in surprise when they taste the rice!
I'm not sure if this is how Chipotle does their rice, but gee, it is tasty. Simply put your rice and water into the pot in a 1:2 ratio. Throw a tablespoon of butter per cup of rice into the pot, then one smashed fresh garlic glove per cup of rice. Add salt, bring your rice to a boil, then simmer until cooked through.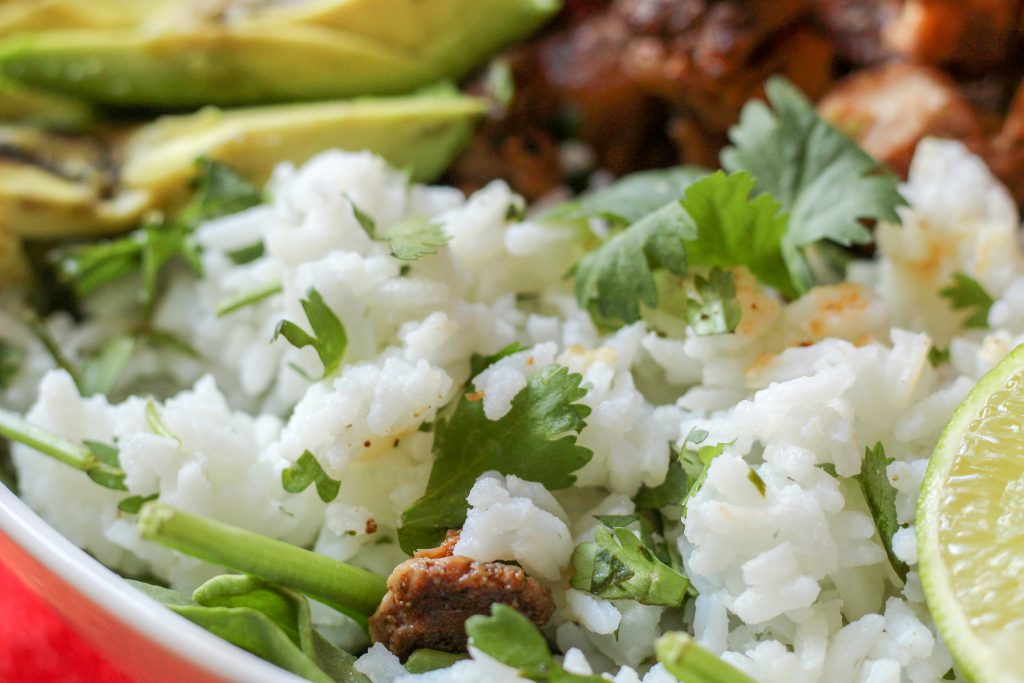 After the rice is cooked, all that's left to do is mix in some lime juice and cilantro, and extra salt if needed. I actually have watched them prepare the rice at Chipotle and asked them about it, and it really is this simple!
One final note: you may want to let the rice cool down a bit before adding the cilantro. Otherwise, the cilantro will wilt and lose some of its flavor.
Side Dishes
My all-time favorite side dish for this Copycat Chipotle Chicken Burrito Bowl is the fire-roasted corn salsa.
The KEY to this delicious salsa is fresh corn. I repeat, it must be fresh, on-the-cob corn. Frozen corn and canned corn just do not work, although I have definitely tried; there is simply too much moisture for the kernels to truly roast.
After shucking your fresh ears of corn, you can roast it on the grill or on the open flame of a gas stove. It will make loud popping sounds – don't be alarmed!
You aren't looking for the corn to be bright yellow or cooked all the way through, just for some nice char all around. After it's cooked, cut it off the cob using a sharp knife. Then, simply mix with the other ingredients – red onion, cilantro, lime juice, and salt!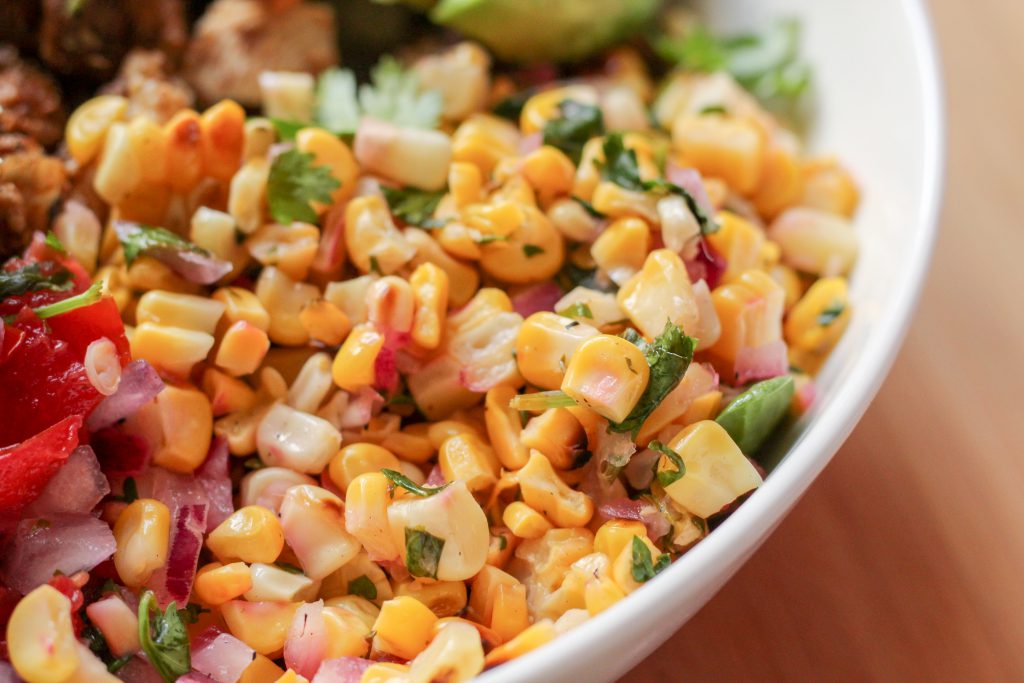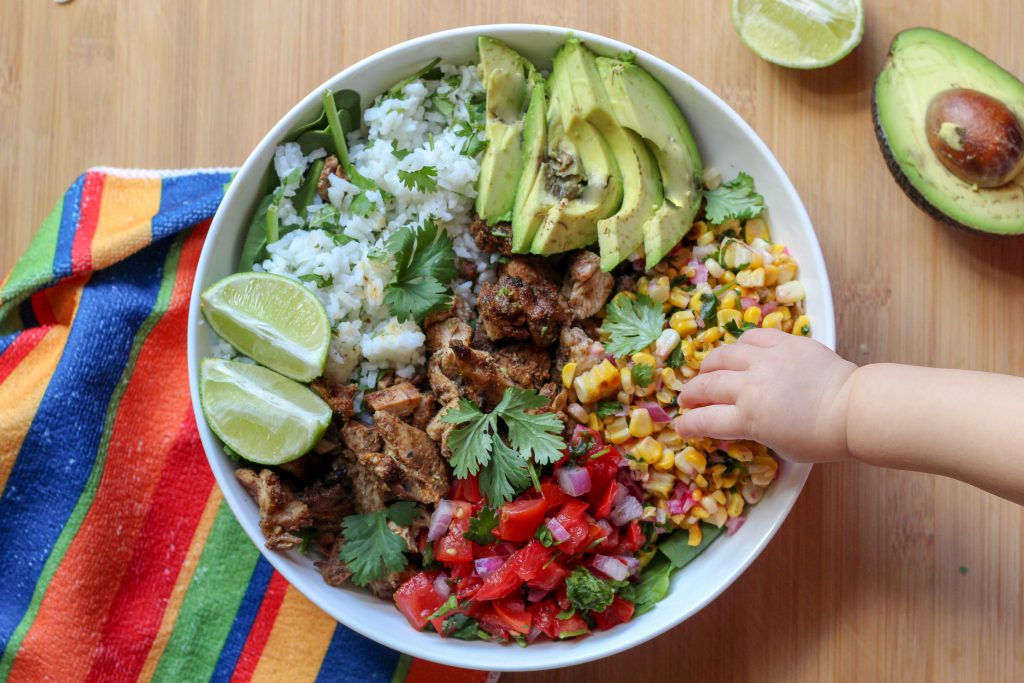 The other salsas are up to you, and all contain the same sidekick ingredients (red onion, cilantro, lime juice, and salt). I personally prefer mild tomato salsa, but you can also mix it up and make peach salsa, mango salsa, pineapple salsa, etc.
Guac is also a very tasty side – use your favorite recipe! I prefer mine with some small diced tomatoes mixed throughout. The best part? No one can charge you extra for guac!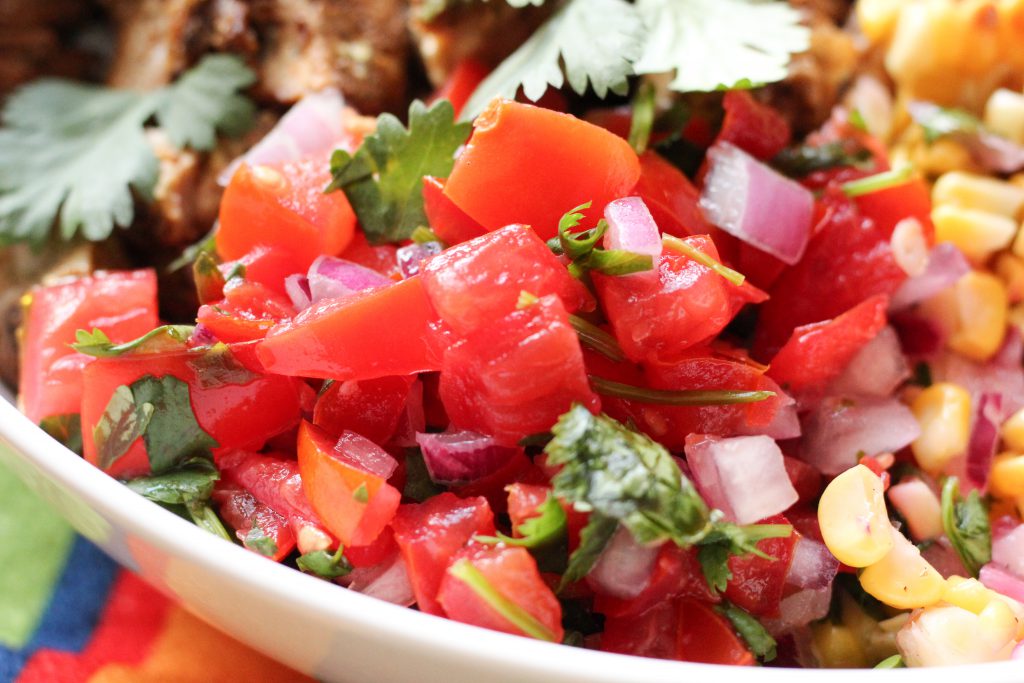 The Copycat Chipotle Chicken Burrito Bowls Recipe
Copycat Chipotle Chicken Burrito Bowls
Burrito Bowls from the comfort of your own home that taste even better than Chipotle.
Ingredients
Chipotle Chicken
2

lbs

Boneless skinless chicken thighs

1/4

cup

olive oil

3

tbsp

chili powder

2

tbsp

cumin

1

tbsp

garlic powder

1/2

tbsp

onion powder

1/2

tbsp

oregano

salt and pepper
Cilantro Lime Rice
2

cups

uncooked rice

4

cups

water

1

clove

garlic, peeled and smashed

2

tbsp

butter

2

tsp

salt

3

limes, juiced

1/2

bunch

cilantro
Fire-roasted Corn Salsa
4

ears

fresh corn

1/4

red onion

1/4

bunch

cilantro

2

limes, juiced

Salt to taste
Mild Tomato Salsa
6

roma tomatoes, diced and seeds removed

1/4

red onion

1/4

bunch

cilantro

1

lime, juiced

salt to taste
Instructions
Chipotle Chicken
Toss chicken in olive oil, then toss in spices to ensure it is evenly coated. Let sit for 30 min – 1 hour.

Grill chicken on medium-high heat on grill pan or outdoors until it reaches an internal temperature of at least 165. Allow the chicken to get slightly charred on both sides.
Cilantro Lime Rice
Combine water, rice, butter, salt, and garlic in a saucepan.

Bring to a boil, then allow to simmer until water is absorbed, about 20 minutes.

After the rice has cooled slightly, toss in lime juice and cilantro.
Fire-Roasted Corn Salsa
Shuck corn and remove silk.

Place corn on open flame of a gas stove, on high heat of a grill, or on a grill pan.

Rotate corn so that all sides are roasted. Remove from heat and cut the kernels off the cob.

Toss corn with other ingredients.
Serving
Serve all ingredients with extra cilantro and lime on the side. I like to keep all components separately and allow people to build their own burrito bowls. Can also be served on top of lettuce for salad or on mini tortillas.