Disclosure: This post may include affiliate links through the Amazon affiliate program or other affiliate partnerships. If you click on a link and buy something, I may receive a commission, at no additional cost to you. You can read more boring disclosure details in my disclosure and privacy policy.
Jump to Recipe
This pork chop recipe takes standard pork chops to the next level with a sweet and savory honey balsamic cream sauce! Perfect for a weeknight dinner.
If you've been following my blog for any amount of time now, it's no secret that I love recipes that use balsamic vinegar.
Give me a platter with fresh mozzarella, tomatoes, basil, and a drizzle of balsamic glaze and I'm in heaven. You can never go wrong with a classic.
This pork chop recipe takes standard pork chops to the next level with a savory, sweet, creamy, balsamic sauce.
Basically, every delicious flavor you could ever want in a dish. It has all of the flavors of a well-balanced dish: sweetness, acidity, and richness.
The best part? It makes for a great weekday dinner with minimal prep, because the chops cook through in about 10 minutes, and then all that's left to do is reduce the sauce.
While this pork chop recipe is pretty simple, here are a few notes to be sure that you produce the tastiest chops possible!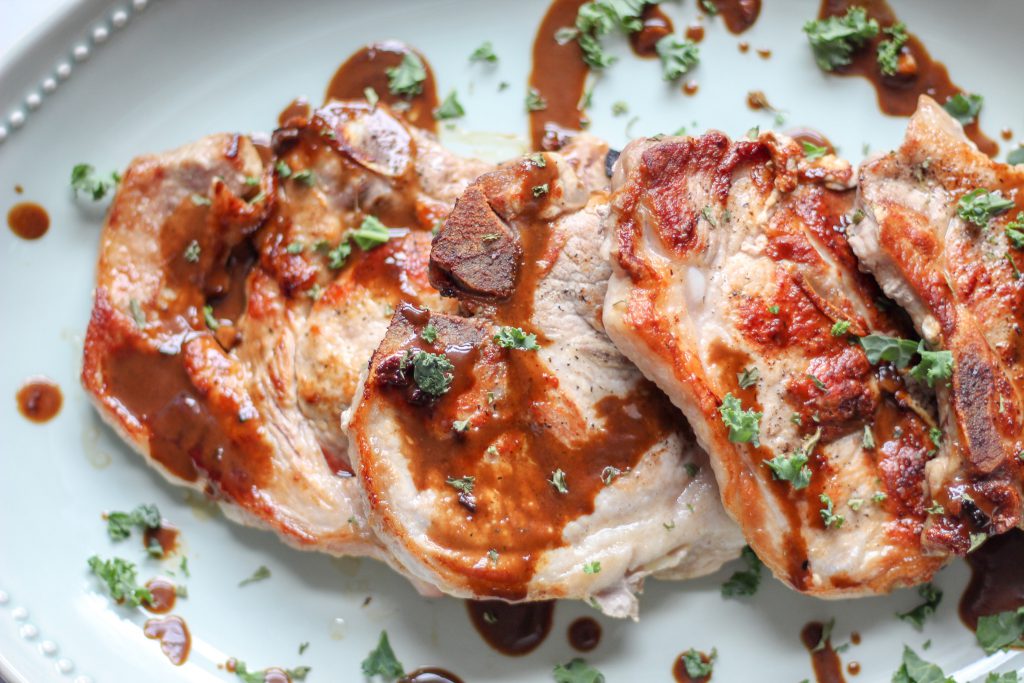 The Pork Chop Recipe…
I've made this recipe both ways, and I definitely prefer it with bone-in pork chops.
I think this is because bone-in chops are a fattier cut of meat. The boneless pork chops tend to be chewy and drier. The bone-in pork chops come out juicy and tender every time.
So, to start off, season your chops with salt and pepper. With a generous drizzle of olive oil, sear the pork chops in a pan on high heat. The high heat will ensure you get a crust and a good golden-brown color. Color=flavor!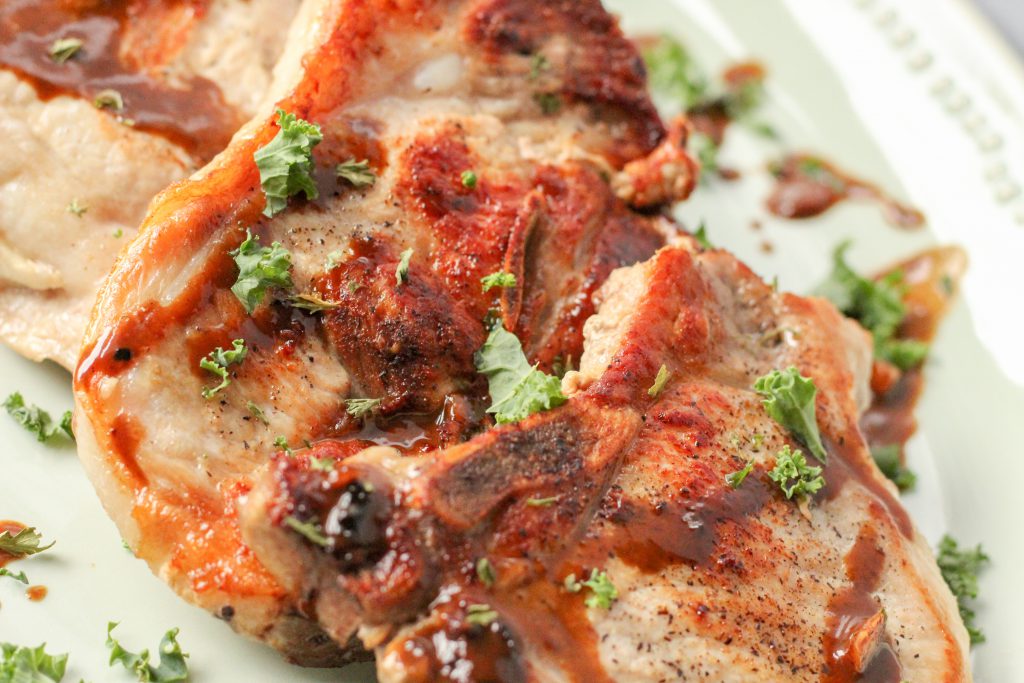 I prefer to make this in my cast-iron skillet, because it can handle the high heat and produce a great sear without ruining the pan. A cast-iron skillet is a great investment that can literally outlast your marriage if you take care of it.
Once the pork chops are browned and caramelized on both sides, remove them from the pan.
In the same pan, add the butter and garlic, and stir until fragrant (about 1 minute). Do not let the garlic darken in color or burn! This makes the garlic bitter, instead of wonderfully nutty like we want.
Next, deglaze the pan with the balsamic vinegar. Be sure to scrape up all the bits of the pork chops that were stuck to the pan. Again, this equals flavor!
Add the honey. When the balsamic vinegar and honey have started to bubble (this happens fast, don't walk away!), add the cream. Stir until the sauce has begun to thicken. A good way to test this is when the spoon leaves a trail behind in the pan, or when the sauce coats the back of your spoon without running off. Taste it and adjust for salt and sweetness level if necessary.
Hint: If the sauce is too sweet for your liking, add more balsamic vinegar. If it's too acidic for you, add more honey. They balance each other out!
Finally, return the pork chops to the pan to finish cooking in the sauce for a minute or two. I recommend using a meat thermometer (this one is my favorite of all time) to make sure the pork is at 145 degrees.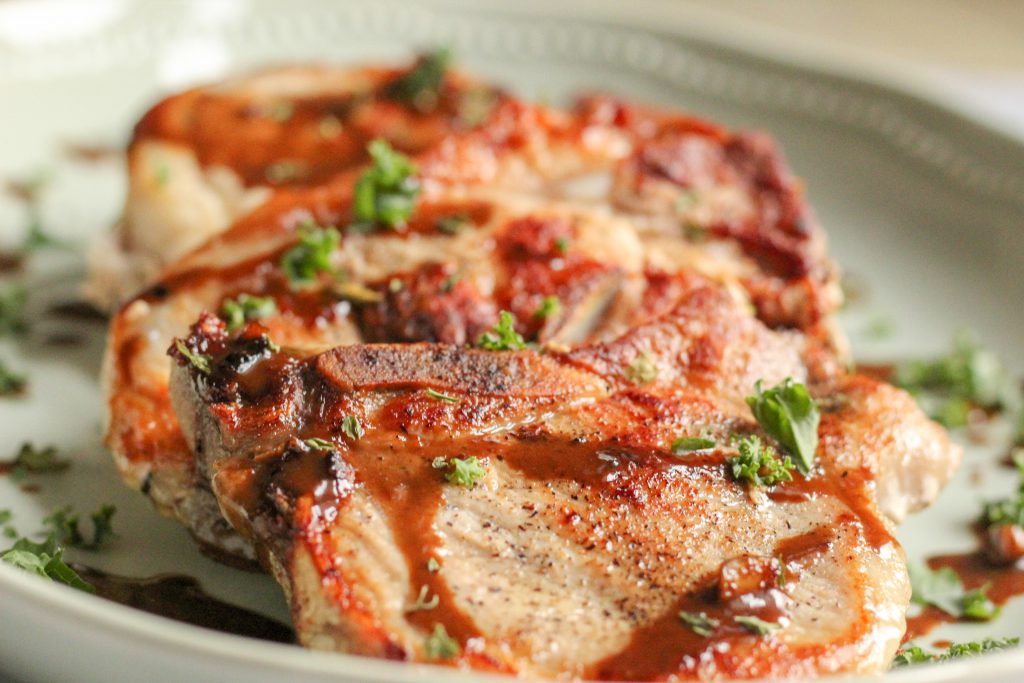 And that's it! Incredibly simple, right? Serve with LOTS of sauce (unlike the photos) because I guarantee your family will be licking it off their plate (at least, that's what my family does…).
I usually serve it with green beans and mashed potatoes. A fresh salad would also be great, followed by a slice of old-fashioned apple pie for dessert!
Let me know how it turns out for you!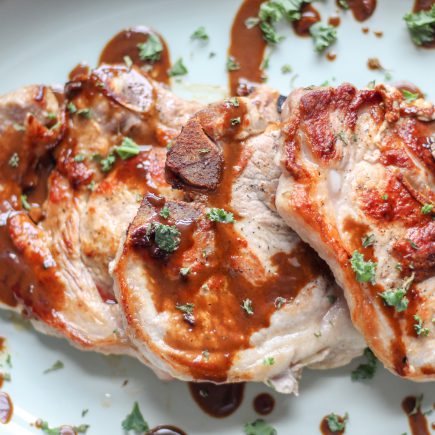 Pork Chops with Honey Balsamic Cream Sauce
Pork chops cooked in a sweet and savory sauce!
Ingredients
1

tbsp

olive oil

salt

to taste

pepper

to taste

4

cloves

garlic

2

tbsp

butter

4

bone-in pork chops

1/2

cup

honey

1/2

cup

balsamic vinegar

1 cup

cup

heavy cream
Instructions
Pat the pork chops dry and season with salt and pepper to taste.

Preheat a large pan to medium-high heat. Add the olive oil.

Sear the pork chops on both sides, about 3 minutes per side. Remove from the pan and set aside.

Lower the heat to medium-low. Add the butter and garlic to the pan, stirring until fragrant, about 30 seconds.

Deglaze the pan with balsamic vinegar, making sure to scrape up any bits of meat stuck to the pan. Add the honey.

Let the balsamic and honey come to a boil, then add the cream. Stir until the sauce is slightly thickened.

Return the pork chops and any juices on the plate to the pan, allowing them to cook for 1-2 minutes more.

Serve the pork chops with lots of sauce, and enjoy!