Disclosure: This post may include affiliate links through the Amazon affiliate program or other affiliate partnerships. If you click on a link and buy something, I may receive a commission, at no additional cost to you. You can read more boring disclosure details in my disclosure and privacy policy.
Jump to Recipe
Labor Day has passed, and according to society and our school systems, this means that summer is over.
Well, I'm just not ready for summer to be over! I have not eaten nearly enough watermelon, have not gone to the Jersey Shore even once, and feel like I've only scratched the service of my summer to-do list.
So, I've decided to rebel and declare that summer is not over. I hereby invoke the power of science and believe that as long as the fall equinox has not passed, summer really isn't over! Because science says so.
Science beats the chumps that declared the arbitrary holiday of Labor Day as the end of summer and made up rules like not being allowed to wear white pants anymore.
Join me in my rebellion and go grab some watermelon (before it all disappears off the grocery store shelves again) and strawberries for these delicious Strawberry Watermelon Popsicles.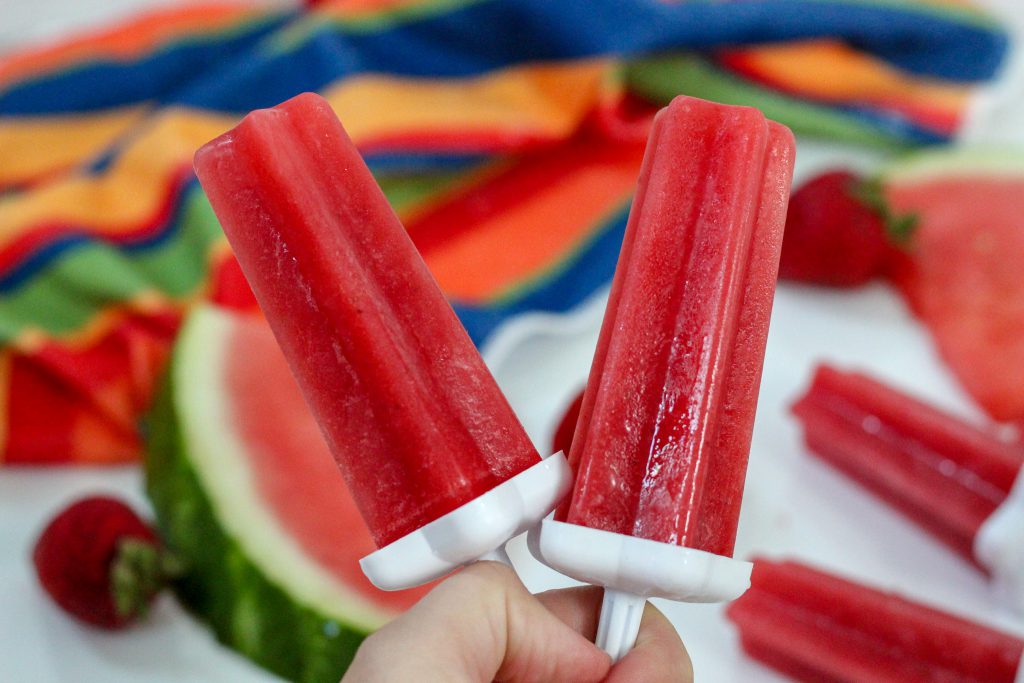 How to Make Strawberry Watermelon Popsicles
Writing out a recipe for these popsicles almost seems silly, because it really is so simple.
You simply roughly chop your watermelon, then throw it in a blender with the strawberries and a little water to help the blender out. If your fruit isn't super ripe and needs a little help in the sweet department, use your sweetener of choice. (I prefer honey so that I can say these are healthy 🙂 )
This is a great recipe if you have strawberries that are past their prime. Not moldy, but at the old-and-wrinkly stage that makes my husband and baby turn their nose up at them.
After blending, the crucial step is to strain everything through a fine-mesh sieve before pouring into your popsicle molds. I didn't do this the first time I tried this, and it resulted in a very strange texture.
Basically all of the fruit juice melts in your mouth in typical popsicle fashion, but then you're left with strange watermelon pulp and strawberry seeds in your mouth. Straining is worth the extra step, trust me!
After blending and straining, all that's left to do is to pour the juice into the popsicle molds and let your freezer (and time) do the rest.
If you're looking for some good popsicle molds, I have these and I love them! The star shapes remind me of the Turbo Rockets from ice cream trucks of my childhood, and they're a fun surprise for any patriotic party. Also, the molds aren't too big so you get lots of popsicles out of one batch rather than a few huge popsicles.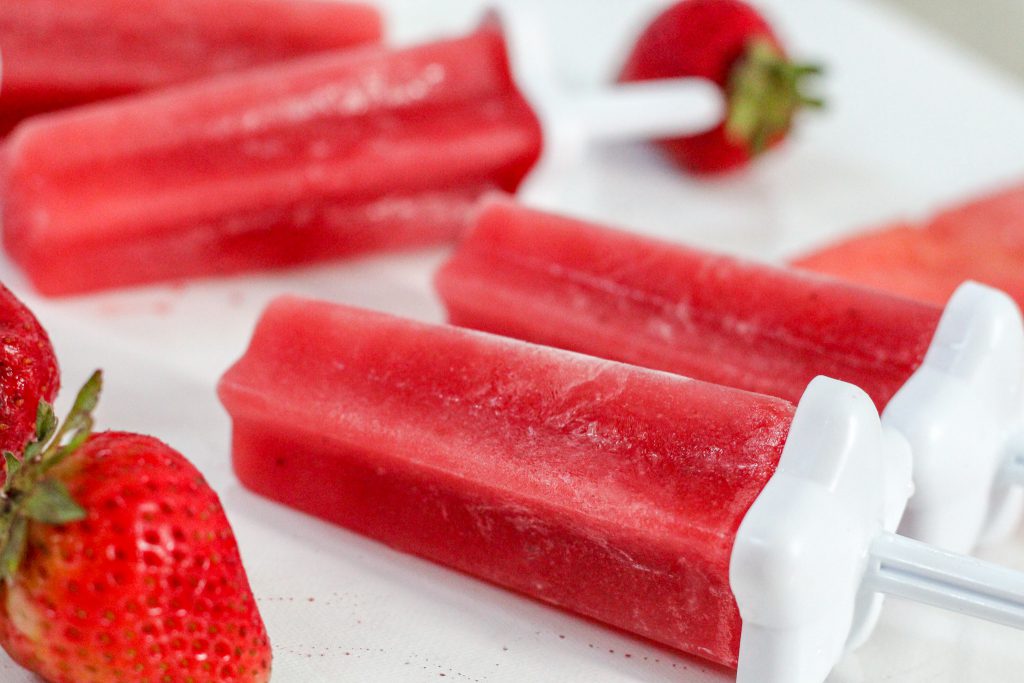 Recipe Modifications
The great thing about this recipe is that since it's barely a recipe, there are lots of ways to change it.
Feel free to switch up either of the fruits for a different option. Strawberry and peach, watermelon and blackberries, watermelon and peach, strawberry and banana – you get the idea!
If you're feeling bold, lime juice makes these popsicles really pop and adds a nice unexpected element. Be sure to add some extra sweetener to compensate for the sour lime.
Another delicious, unexpected flavor pairing for those with a sophisticated palette is basil. Add one bunch of leaves into the blender with the fruit and prepare to be amazed!
To make this recipe Whole30 friendly, simply omit the sweetener.
If you want to give this popsicle to a baby under one (I'm sure a teething baby would love a cold popsicle for their gums!), omit the honey and use a different sweetener like agave.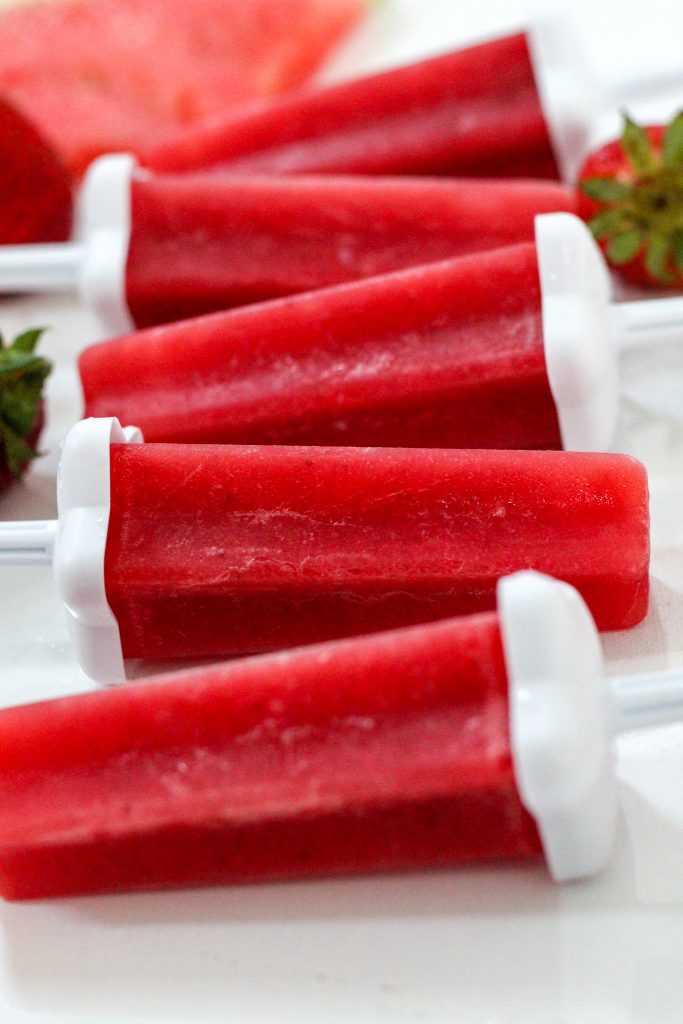 Enjoy!
Let me know how these turned out, or if you find a particularly delicious flavor pairing that you have to share!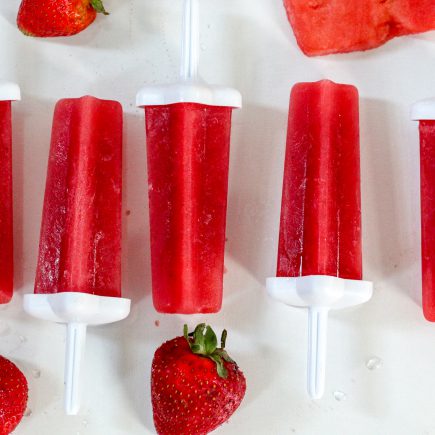 Stawberry Watermelon Popsicles
These popsicles are fruity, sweet, and summer in one frozen treat!
Ingredients
4

cups

cubed watermelon

1

pint

strawberries

3

tbsp

honey or sweetener of choice

1/4

cup

water
Instructions
Put all ingredients into the blender and blend until smooth.

Pour mixture through a fine-mesh sieve to catch seeds and pulp.

Pour strained mixture into popsicle molds, or dixie cups with popsicle sticks.

Freeze for several hours or overnight.