Disclosure: This post may include affiliate links through the Amazon affiliate program or other affiliate partnerships. If you click on a link and buy something, I may receive a commission, at no additional cost to you. You can read more boring disclosure details in my disclosure and privacy policy.
If you are fortunate enough to have the space for a guest bedroom, then you'll likely want people to stay the night at your house!
In my experience, people with guest bedrooms are constantly saying things like "You should come stay with me when you're in town! We have a guest room!" or, "Mom, why don't you come to visit me for a week? We have a guest room!"
The point being, if you have dedicated valuable space in your home to dedicate for guests, then you want it to be used!
So, as a host, how can you make sure that guests feel comfortable spending the night in your guest bedroom? Thinking through these things is especially important if you have people staying with you for longer periods of time.
These ideas will leave your guests feeling cared for, loved, and wanting to return!
Guest Bedroom Ideas
1. Create a guest bedroom basket
My favorite thing to do for our guests is to provide a small basket of essentials they may have forgotten. Or, in our case, many of the people who stay with us decide to spend the night last-minute. It's nice for them to know the basics are covered if they choose to sleep over.
Our guest bedroom basket is stashed with basic travel-sized toiletries like shampoo, conditioner, extra toothbrushes, toothpaste, body wash, lotion, razor blades, face wash, and deodorant.
In addition to the obvious essentials, I also like to include some items that people might not travel with, or that will give a sense of refreshment.
I love these exfoliating face wipes – perfect after a long road trip or flight. For the ladies, makeup remover wipes are essential. Finally, downy makes a great wrinkle release spray that I'm sure anyone with a crowded suitcase will appreciate. (Even when I roll my clothes, everything still ends up slightly wrinkled!)
Maintaining this guest bedroom basket doesn't have to be difficult! Just check every once in a while to see if the items are running low. I do replace the deodorant after each guest if I can see it has been used. You could even encourage your guests to take stuff with them if they used it while they were there.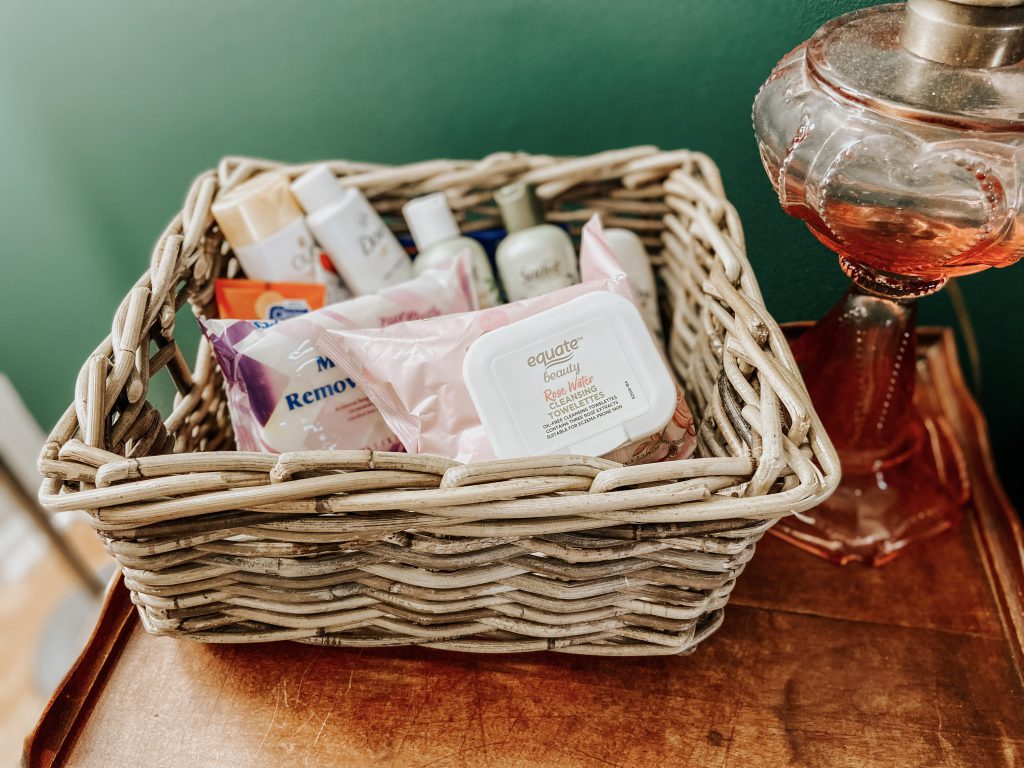 2. Clear space in your guest bedroom closet
I have a feeling that the closets of many guest bedrooms end up holding lesser-used clothing like big winter coats and old bridesmaids dresses, or serve as a catch-all for overflowing closets throughout the house.
I still think this is totally fine to do! The guest bedroom happens to have the biggest closet in our house, and there's no way it will stay empty forever.
With that said, try to clear out some of the rack space for your guests – probably about two feet. Include empty hangers for them to use as well.
This empty space will make them feel more at home, and will give them a place to organize their clothes rather than living out of a suitcase during their stay. I would say this is especially important if you don't have a dresser in your guest bedroom!
3. Have extra pillows
In order to have a comfy bed in the guest bedroom, tons of extra pillows (and pillowcases) are a necessity.
While there are some people who only sleep with one pillow, there are also four-pillow-sleepers. These are the people who sleep with two under their head, one between their legs, while hugging one.
Help your guests achieve the best sleep possible in their home-away-from-home by providing enough pillows for any type of slumber.
4. Provide a phone charger
This is something I am guilty of forgetting until recently! When a friend spends the night and forgets their charger, they have to use mine. The result? My husband and I are left arguing over who gets to charge their phone that night.
This is such a simple fix – for less than $9.00 you can buy a universal phone charger that will accommodate your guests regardless of whether they have an android or iPhone.
The best part of the universal charger? It also includes a mini-usb port that is useful for charging devices like headphones or kindles!
5. Set up a power strip
Speaking of kindles and headphones, the amount of electronic devices people travel with nowadays is ridiculous.
When my husband and I go somewhere, we have seven items that need charging between the two of us. I am not exaggerating! He brings a laptop, kindle fire, kindle paperwhite, wireless bluetooth headphones, and of course, his phone. I stick with a kindle phone, and sometimes a laptop.
Hopefully you see my point – you need a power strip in your guest bedroom because one wall outlet is not enough! Unless your guest remembers to rotate out their devices every couple of hours, a power strip is very helpful for charging all of the devices the day before their return trip.
6. Put the Wifi password in a frame
This is such a simple one to do, but it is so thoughtful! Rather than relying on your guests to ask, or relying on yourself to remember to give them the password, print out the network name and password and frame it.
You can do this for one dollar if you get a frame from Dollar Tree and print out the insert yourself at home! I found the printable below for free from another blog here.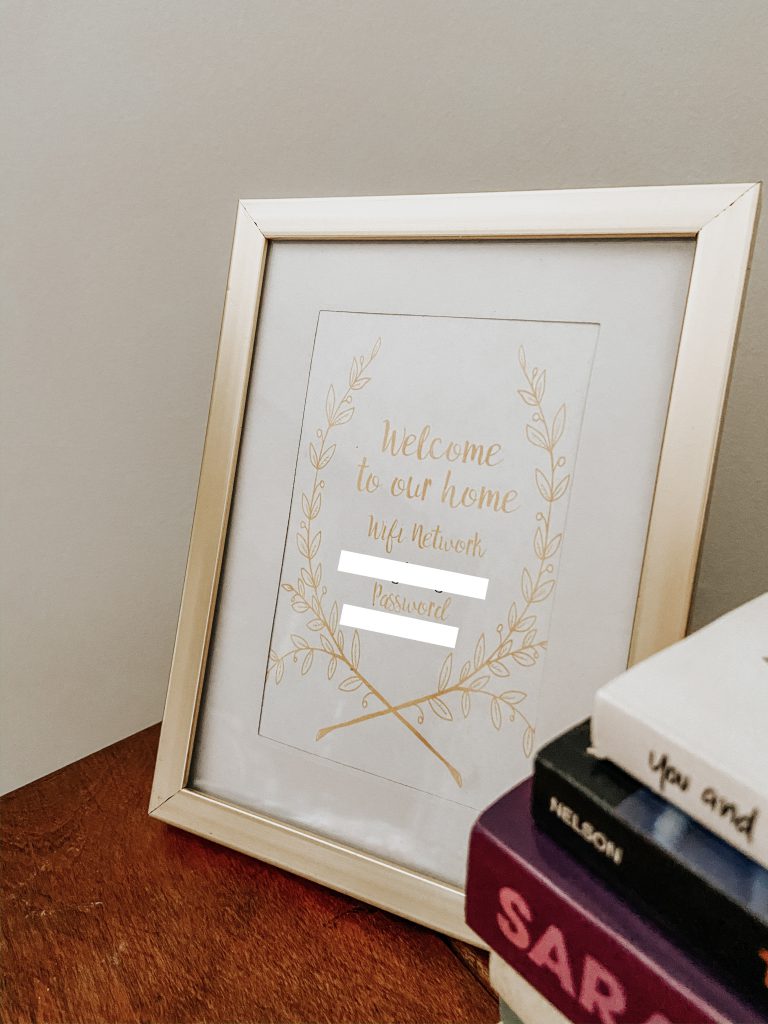 7. Supply extra blankets
Your guest might be one of those people who is always cold! Think ahead by assuming your guest might be freezing in the middle of the night, and put some warm blankets in the guest bedroom closet.
The sister who is always cold, or mother-in-law who loves to be extra cozy will thank you!
8. Put towels in plain sight
I always thought it was enough to tell my guests where the linen closet was and inform them that they could help themselves.
While my guests didn't have any trouble finding the linen closet, they were too shy/humble to go for the nice towels! Instead, I found that they always picked from the shelf of old, ratty towels. (As in, towels I used to dry the dog's paws or ones that I've had since college.)
Don't make guests guess which towel they should use, or make them feel bad for choosing the fluffy luxurious towel. Make the decision for them by placing the towels in plain sight in the bedroom.
9. Install drying hooks for towels
Go a step further by placing hooks somewhere in the room for towels to dry. Unless you have a dedicated guest bathroom, there probably isn't a lot of extra space for wet towels in addition to what your family regularly uses.
The drying hooks will give your guests a nice place to dry their towels that A) helps the towels dry thoroughly, B) keeps the wet towels off of nice wooden furniture, and C) allows your guests to keep their room tidy.
10. Buy a luggage stand
If you want to be the ultimate host, you could invest in a luggage stand. This is another thing you would only need if you don't have a dresser in the guest bedroom.
A luggage stand will keep the room tidy, and is such a nice thing to provide for someone living out of a suitcase. I'm partial to this one on Amazon, because it comes in a variety of wood finishes to match any decor, can fold, and is an upgrade to the metal ones found in hotels.
11. Empty laundry basket
Lastly within the theme of helping your guests feel tidy, provide an empty laundry basket or hamper for dirty clothes.
I feel like such a slob when I spend a week with my parents because there is a giant pile of clothing in the corner from me, my husband and my child. And my husband's socks are very smelly. On the other hand, at my house, my dad's go-to is to hang his undershirts on the back of chairs and any other vertical surface.
As soon as I finish this post, I'm putting a basket in the guest bedroom for dirty clothes. Everyone will feel better knowing it's there! If you want to be a true gem, you can also store plastic bags in the closet for guests to put wet or extra soiled dirty laundry in before the journey home.
12. Put out a selection of favorite books
This one is honestly just for fun! You can show a little personality, and sneak in some book recommendations. If your guest runs out of reading material, or is simply intrigued by a book on the shelf, they'll be grateful for the selection you provide.
Placing these books in the guest bedroom makes them feel comfortable picking one up and claiming it for their stay. They are unlikely to read a book they find on your coffee table or go hunting for one in the office. It also shows your friends and family that you want them to be comfy.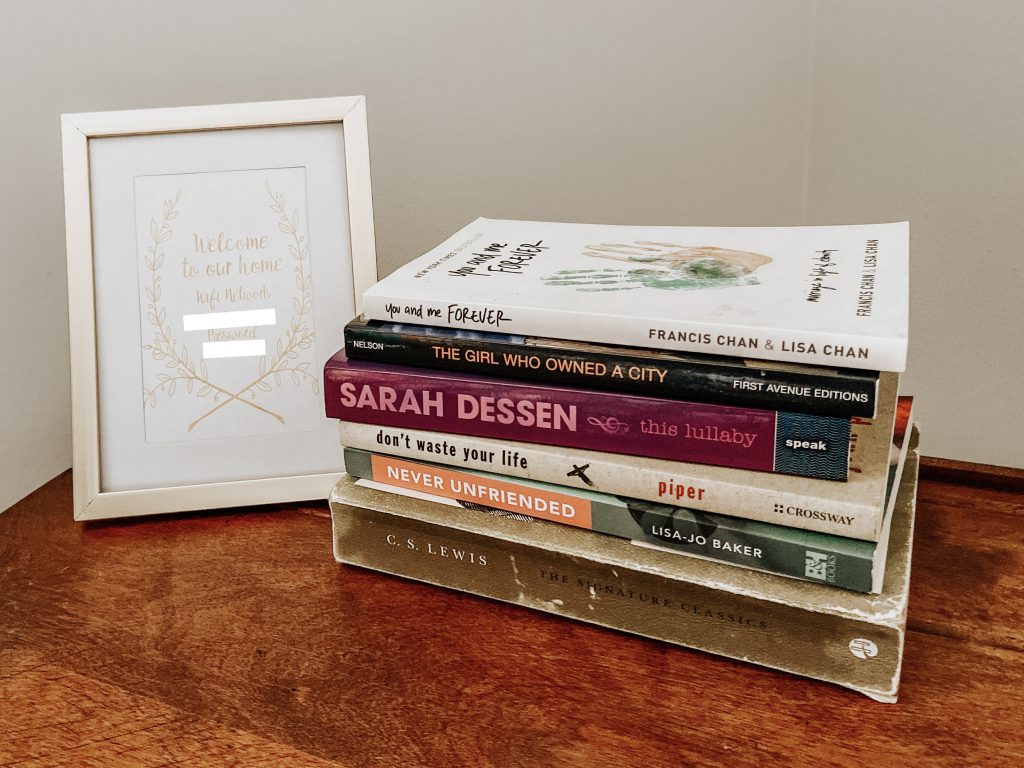 Our Guest Bedroom – The Reveal!
A post on a guest bedroom would not be complete without sharing some special details about our very own.
We didn't do anything crazy to the room itself in this case – we kept it simple and only used paint for an accent wall. Accent walls are an extremely easy way to add a dramatic effect for minimal cost. When you're only painting one wall, you can spend $30 or less on the paint, which is totally doable for most budgets.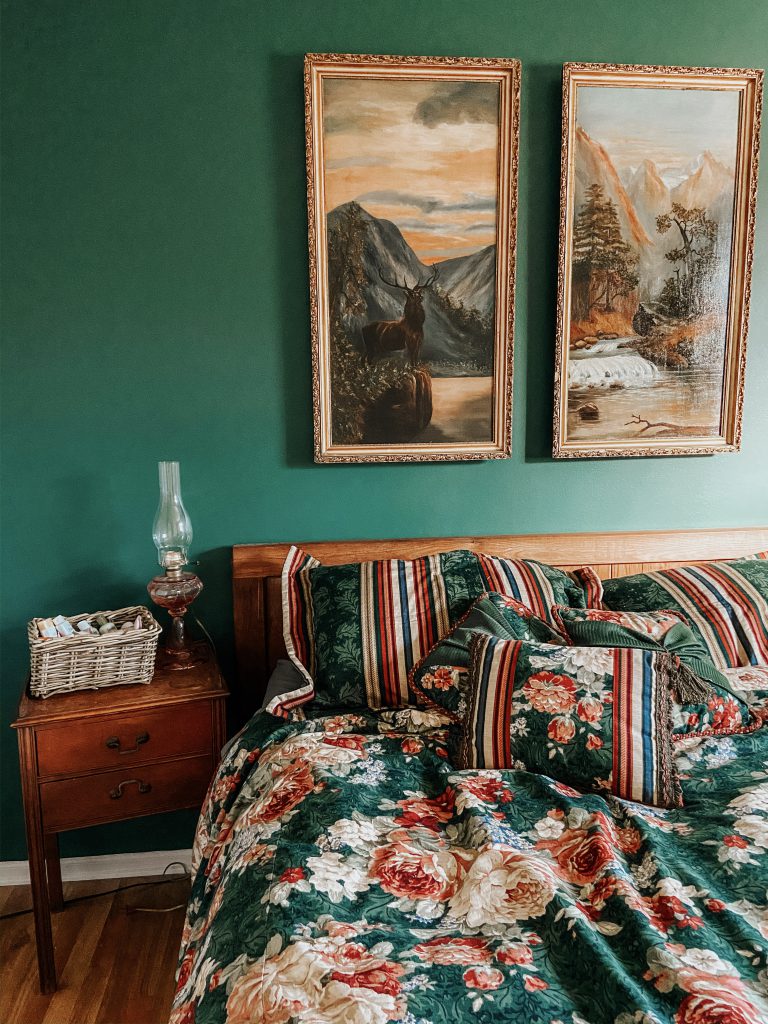 The entire room was inspired by this beautiful comforter and bedding set made by my Aunt Fran. She's insanely talented at sewing (seriously, she sewed her own bridesmaids' dresses!), and this comforter she made was eventually passed along to me.
Although I was scared to use such a bold paint color on the wall, I decided to go for it: I painted the accent wall a deep hunter green. And I have to say, I'm thrilled with how it turned out. I think it's classy, but also very unique.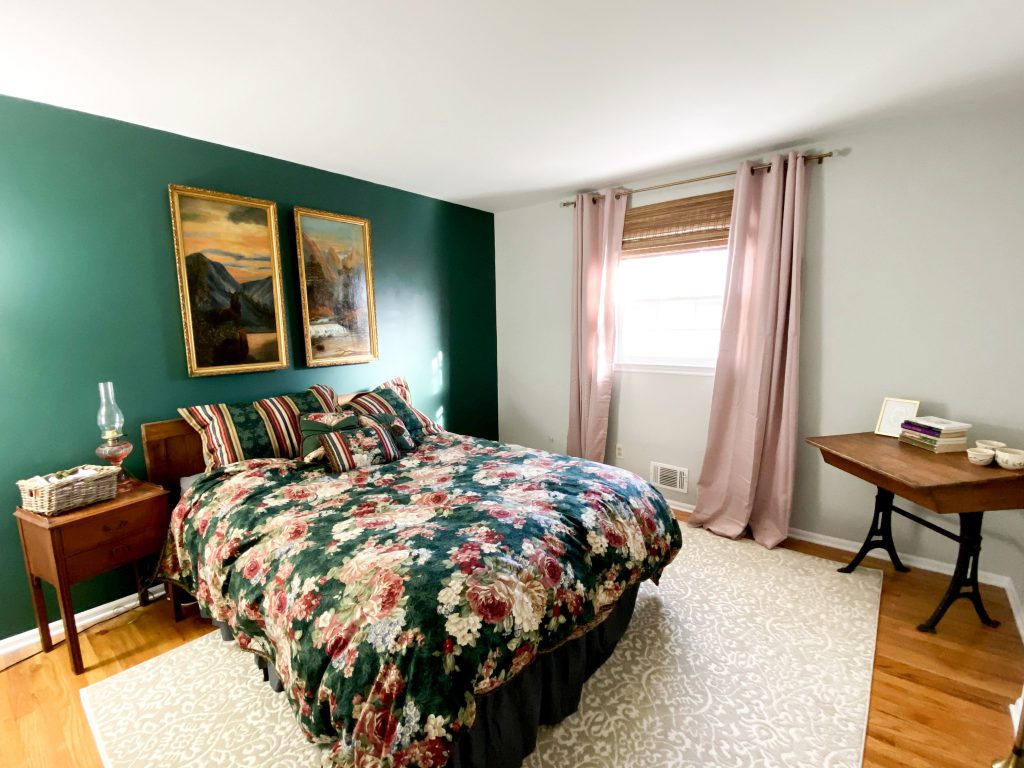 The rest of this room is special to me because there are many personal touches throughout made by other people in my life.
The two paintings above the bed are by my great-great-grandmother. The desk in the corner was made by grandfather nearly 80 years ago. And those sweet little pots? Those were handmade by my dear friend Andra. (For closeups of all of the details of the areas of our home, be sure to follow me on Instagram.)
I'm so grateful for a room that holds so many treasures from my friends and family.
If you're interested in any other item featured in our guest bedroom, I've linked them below:
What do you do to keep guests comfortable in your home?
What have I missed here? I am genuinely curious what other people do in their guest bedrooms to make people feel welcome and loved.
Let me know in the comments below 🙂
Interested in learning how to transform an old dresser to match the decor for any room in your home? Check out my post here!